TBS8500 Professional 8 HDMI Inputs H.265/H.264 Live Stream IPTV Encoder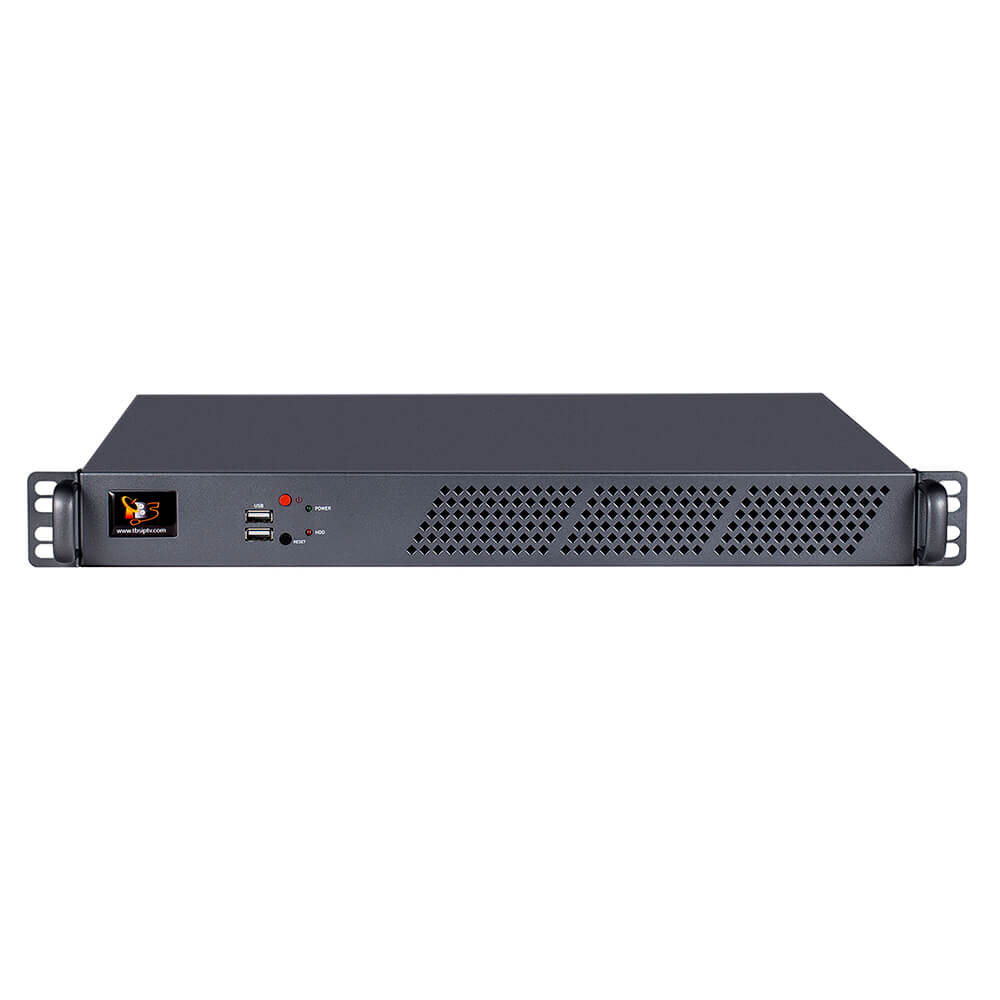 TBS8500 Professional 8 HDMI Inputs H.265/H.264 Live Stream IPTV Encoder
Model: TBS8500
Weight: 11,500.00g
Reward Points:2800
Out Of Stock
Description

Download

Reviews (0)
TBS8500 is a professional 8 channel HDMI encoder, which can realize 8 HDMI channel collections, real-time H.265/H.264 encoding and compatible with HTTP/RTMP/RTP/UDP/TCP Protocols.
With highly integrated hardware and software, it is convenience for customers release live streams into streaming media sever and will greatly save the network traffic, electricity and space utilization rate, improve the live operator front-end equipment reliability, reduce operating costs and entry barriers.
The product can be applied to education, health care, IPTV, conference, remote education, news interview, banking, transportation and other industries.

Main Features:
Support 8 HDMI channels input
Support H.264/H.265 High Profile video encoding
Support VBR/CBR video encoding
Supports maximum 4-way Adaptive Bitrate Streaming in HLS output
Supports IP whitelist based security mechanism for HLS output
Real-time encoding status monitoring
Output Interface: RJ45 100/1000Mbps
Compatible with HLS/HTTP/RTMP/RTP/UDP/TCP Protocols
Reasonable Web interface based management system
Applications:
IPTV
Video Conference & Live Broadcast
Teaching/Campus Broadcast
Specifications:
Model
TBS8500
Input Resolution
1920x1080P 50/60 Hz
Output Resolution
25/30/50/60 Hz
1920x1080
1280x720P 50/60 Hz
1280x720
720x576 50 Hz
852x480
Note: Other non-standards resolution is supported
720x576
720x480
640x480
Video
Codec
H264
H265(High Efficiency Video Coding)
Profile
Baseline, Main, High, High444p
Profile
Main, Main10, Rext
Rate Control Mode
CBR, VBR
Frame Rate
0 – 60
Keyframe Interval
0 – 250
Output Resolution
HD1080P, HD720P, HD480P, PAL576P, NTSC480P….
Watermark / Logo
Supports jpg, jpeg, png format logo image.
Hashcode Compare
Supports maximum 4 channels hashcode compare and 1080p@60 fps FHD output.
Audio
Codec
MP3, AAC
Channels
1 – 2
Sample Rate
8000, 11025, 22050, 44100, 48000, 96000 Hz
Output Protocols
HLS (HTTP Live Stream)/RTMP/ RTSP/ RTP/ UDP/ TCP
Note*
Supports custom output resolution.
Supports custom frame rate.
Supports custom overlay watermark/logo location.
Supports default highest, high, middle and low 4-way HLS adaptive bitrate settings.
Supports multiple protocols and multiple output.
Supports h264 web player for real-time stream monitoring.
Supports change web login password and port.
Supports reboot web interface or system remotely.
Supports web login protect, too frequent failed login attempts will be banned temporarily.
Supports offline package based remote upgrade.
Supports real-time stream status monitoring.
Supports real-time CPU, memory and network monitoring.
Temperature
0~60℃
Power consumption
Less than 120W