TBS2630 8/16 channel HD H.264/H.265 HDMI Encoder
TBS2630 8/16 channel HD H.264/H.265 HDMI Encoder
Model: TBS2630-HDMI
Weight: 17,000.00g
Out Of Stock
Description

Download

Tags:

Reviews (0)

What's professional multi channel HD H.264/H.265 HDMI Encoder TBS2630?
TBS2630 is a professional Multi channel HD H.264/H.265 HDMI encoder, which is our most powerful HD audio and video encoding device with powerful functionality, supports 8/16 channels HDMI stream of H.264/H.265 encoding output and the AAC, Mp3 audio format.
From any HDMI input source, it generates H.264/H.265-encoded stream compliant with HTTP/RTSP/RTP/RTMP/UDP protocols and ONVIF.
The product can be applied to education, health care, IPTV, conference, remote education, news interview, banking, transportation and other industries.
Why you should choose H.265?
--Downsize large HD videos with nothing lost
An HD video is usually very large in size, so converting the HD video to an H.265 video is the perfect solution to save space while remain the video quality.
--Convert DVDs/Blu-rays to H.265 videos for feasible playback
If you want to view a DVD or Blu-ray movie on your video player devices, you need to convert the movie to a specific video at first. Here you can use H.265 encoder to get a video with high video quality and relatively smaller size.
--Convert regular videos to H.265 for better video quality
You can convert regular videos in other formats to H.265 videos with better video quality, and the file size is not large.
Applications:
IPTV
Digital Signage
Video Conference
Replace HD Video Capture Card
Hotel TV system
Live Broadcast
Teaching/Campus Broadcast
Recording System
Product Features:
System supports WINDOWS XP/VISTA/SERVER2003/SERVER2008/WIN7 32 and WIN7 64, LINUX
Support multiple equipments display at the same time on a computer
Support direct network connection without HD capture card
Main stream and secondary stream can use different network protocols for transmission
Low Power consumption, less than 6W
compliant with HTTP/RTSP/RTP/RTMP/UDP protocols and ONVIF.
support HDCP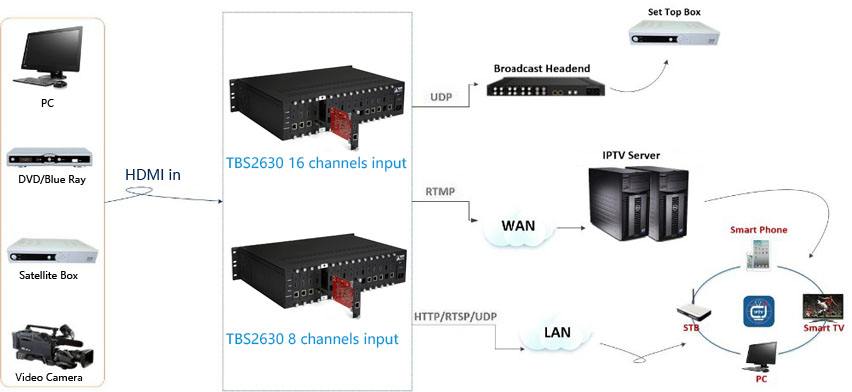 Input
Video Input
16 x HDMI 1.3a
Audio input
HDMI embedded audio
AC IN
110V~240V
AC rate
60/50Hz
Output
DC output
12V/12.5A
Power Dissipation
96W
Vedio
HDMI Resolution:
1920x1080/1680x1050/1280x720/1600x1200/960x540/720*576/704*576 etc
Encoding
BASELINE PROFILE (for H.264 and H.265)
MAIN PROFILE (for H.264 only)
HIGH PROFILE (for H.264 only)
Data Rate
0.8Mbps~12Mbps;
Rate Control
CBR/VBR, 16KBIT/S~12MBIT/S
GOP Structure
IBBP
Advanced Pretreatment
De-interlacing, Noise Reduction, Sharpening
Audio
Encoding
AAC, MP3
Sampling rate
Auto
Bit-rate
32K/48K/64K/96K/128K/160K/192K
Sampling precision
16 bit
Data Rate
64Kb/s ~ 384Kb/s
System
OS
WINDOWS XP/VISTA/SERVER2003/SERVER2008/WIN7 32 and WIN7 64; LINUX
Ethernet/RJ45
1000 Base-T Ethernet interface
Others
Dimension
482mm*320.2mm*108mm
Net weight
7.5kg
temperature
-20℃+ 60℃