TBS5980 DVB-S2 TV Tuner CI USB Box
TBS5980 DVB-S2 TV Tuner CI USB Box
Model: TBS5980
Weight: 500.00g
Discontinued
Successor
Description

Download

Tags:
TBS5980 USB DVB S2 TV QBox CI is a digital satellite external TV Tuner box with USB connection for watching and recording digital satellite TV on PC. With integrated CI slot, it can be used for watching Free to Air TV and Pay TV(By inserting the correct CAM and subscription smartcard into the CI slot, encrypted pay TV will be available). Both Windows BDA driver and Linux driver up to the latest kernel are provided.
The unique TBS MCE tool makes it possible to read CAM/Smartcard on Windows7 Media Center, thus your satellite subscription TV can be watched/recorded on Windows7 Media Center. On Linux platform, you can also watch paytv by using correct software. TBS5980 USB DVB S2 TV QBox CI is compatible with Windows7 Media Center, MediaPortal, DVBlink, DVBDream, DVBViewer, ProgDVB, Skynet, TSreader, XBMC,MythTV, VDR and many other popular softwares.
With use of appropriate software, e.g. MediaPortal and its' plugins, you may stream satellite TV contents to your IPhone, IPAD or IPOD. The built in hardware blindscan capability allows you to scan satellite programs without knowing exact transponder details, this is especially useful for hunting unknown satellite feeds.
Please check the PCIe interface equivalent device: TBS6928SE DVB-S2 CI TV Tuner card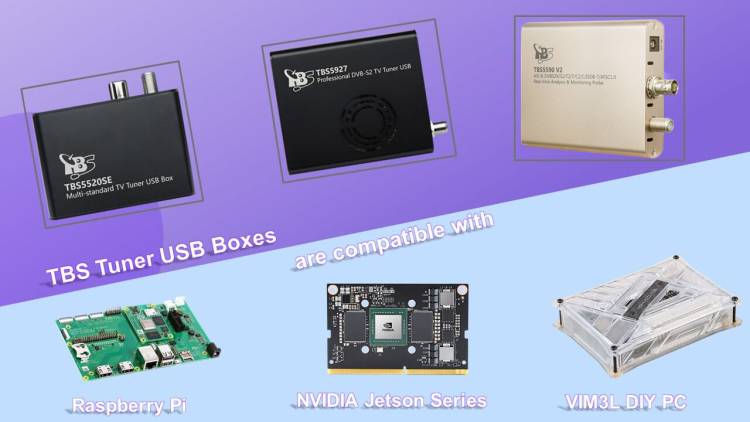 Main Feature:
Watch Satellite TV & listen to Radio on PC
DVB-S2/DVB-S SD or HD TV Receiving
Real Time and Scheduled Program Recording(PVR)
Time Shifting to Pause Live TV
Unicable/One Cable compatible
Common Interface Support
Blindscan
High reliability
Specification:
Receiving Frequency: 950~2150 MHz Tuning Range
Input level: -69~-23dBm
DVB-S2/DVB-S 8PSK QPSK Demodulator
Symbol Rate: DVB-S QPSK 1~45Msps
DVB-S2 QPSK/8PSK 1~45Msps
Carrier Capture Range: ±10MHz
8PSK Puncture codes: 3/5,2/3,3/4,5/6,8/9,9/10
QPSK Puncture codes: 1/2,3/5,2/3,3/4,4/5,5/6,8/9,9/10.
Support Data Burst & Tone Burst
Support DiSEqC2.X and Motor
Single CI Slot
TV Box Size: 103x88x22mm (Length x Width x Height)
TV Box Weight: 200 Gram
Package Gift Box Size: 210x175x55mm (Length x Width x Height)
Package Gift Box Weight: 726 Gram
System Requirements:
Windows 2000/XP/Vista/7/8/10 or Linux
DirectX9.0 or later Version
Available USB2.0 Port
Satellite Dish and LNB
For DVB-S:
1GHz CPU or above
256MB RAM or above
Graphic Card with at least 16MB RAM
For DVB-S2 HDTV:
Dualcore CPU
1GB RAM or Above
Graphic Card with at Least 64MB RAM
Package Content:
1 x TBS5980
1 x Power Adapter
1 x USB Cable
1 x AC line