TBS8502 Small-Scale Transcoder Real -Time Streaming, re-encoding and Transcoding Mini Server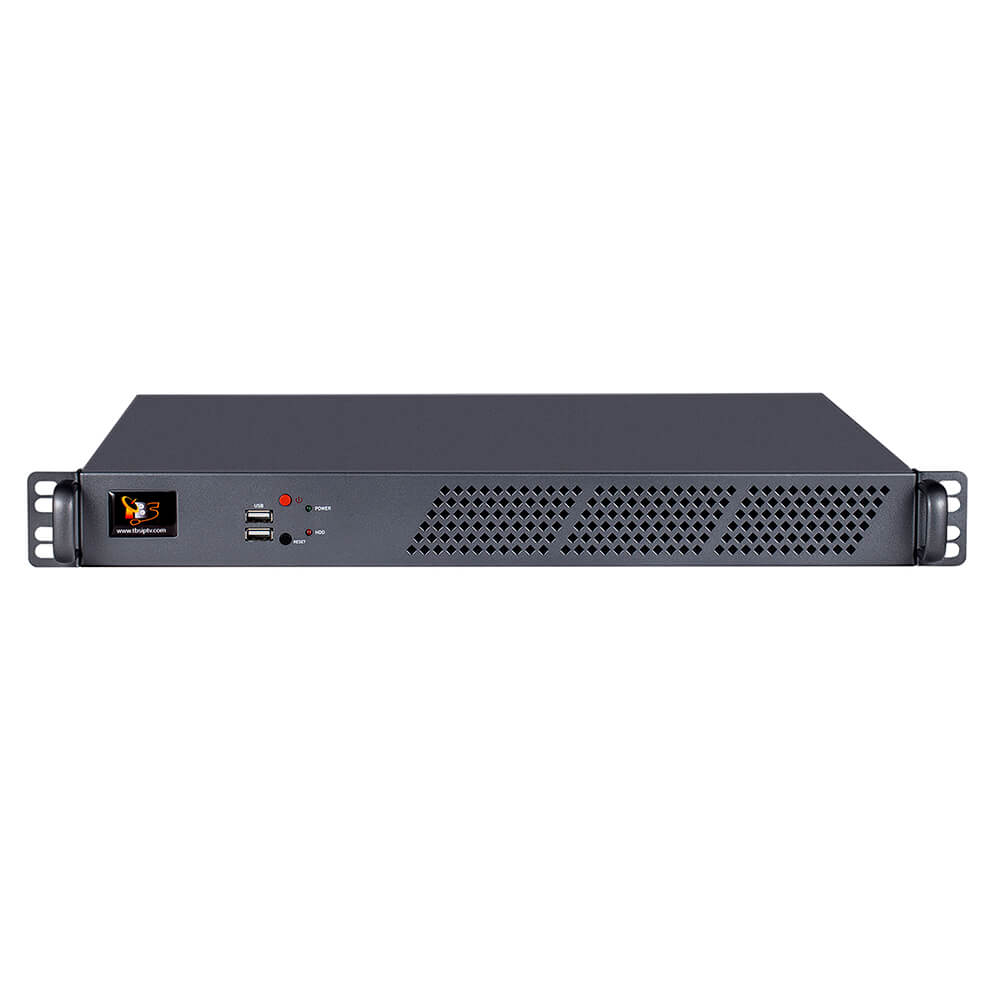 TBS8502 Small-Scale Transcoder Real -Time Streaming, re-encoding and Transcoding Mini Server
Product Model:TBS8502
Weight:15,000.00g
In Stock
Description

Reviews (0)

Download
Customers are increasingly watching video content in mobile or other portable devices. To enable this "any video to anydevice" environment, TBS provides a cost-effective and scalable solution – TBS8502 Mini real-time transcoder that is able to mesh with exist system infrastructure, seamlessly adapt to codec changes, and repurpose contents from different source andformats.
Featuring multiplexing, scrambling and transcoding capabilities, TBS8502 is an ideal server for small-scale IPTV/OTT system to transcode SD and HD MPEG-2 and MPEG-4 AVC (H.264)/HEVC (H.265) video and audio.

Features:
Multiple recourse inputs: DVBS/S2, DVBT/T2, DVBC, ATSC, ISDBT, DTMB, HDMI, ASI and IP streams.
Enable to transcode up to 40 SD or 15 HD channels.
HD to SD down conversion.
Supports SD/HD MPEG-2, MPEG-4 AVC, MPEG-4 HEVC re-encoding and transcoding.
Multiple inputs and output for multiscreen transcoding.
Audio transcoding and automatic audio leveling adjustment.
Application:
IPTV/OTT
Digital Signage
Video Conference
Replace HD Video Capture Card
Hotel TV system
Live Broadcast;
Teaching/Campus Broadcast
Recording System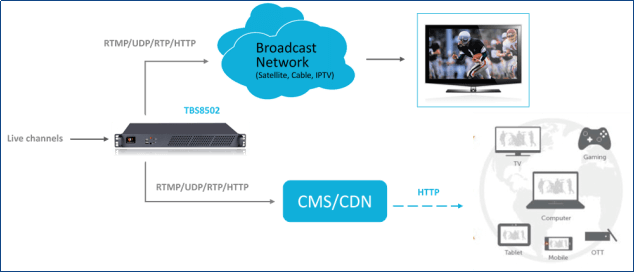 Specification:
General:
Connector Type:
DVBS/S2,DVBT/T2,DVBC,ATSC,ISDBT,DTMB,HDMI,ASI, and RJ45
DVB Tuner Transponders:
Up to 8 transponders
MPEG Transport Streams:
MPTS and SPTS
IP protocol:
UDP, RTP, HTTP, HLS, Media Files
Addressing:
Unicast and Multicast
Descramble:
Soft-CAM descrambling
Re-Encoding/Transcoding Scalability:
SD/HD Re-encoding /Transcoding:
Up to 40 SD channels
Up to 15 HD channels
HD to SD Down Conversion:
Up to 15 HD to SD Conversion
Pre-processing
Logo Insertion:
Yes
Subtitle Display:
Yes
Deinterlace:
Default, Close, Linear, Blend, Yadif
PID Configuration:
PMT/Video/Audio PIN; PCR delay/disp interval
Video Processing
Video Input Bitrate:
SD MPEG-2: 0.5-12Mbps
HD MPEG-2: 0.5-50Mbps
SD MPEG-4 AVC: 0.5-12Mbps
HD MPEG-4 AVC: 0.5-30Mbps
HD H.265/HEVC : 0.5-30Mbps
Bitrate Control:
VBR, CBR
Frame Rate:
2-30fps
B-Frame:
2 (default)
Key Frame Rate:
1-18
Scale:
Ordinary, Auto Padding intelligent Scale
Fast Mode:
Quality Priority, Balanced, Speed Priority
Audio Processing
Numbers of Encoding:
1 Audio channel for 1 Video source
Audio Encoding:
AAC, MP3
Audio Track:
0, 1, 2, 3
Sample Rate:
8khz to 48khz
Bitrate Rate:
8kbps to 384kbps
Management
Environment
Configuration:
Web User Interface
Power Supply:
110 – 240 VAC
Port:
RJ45, 100/1000m Base-T
Power Consumption:
250W
Language:
English (Default)
Dimensions/Weight:
44*39*5cm/14kg