TBS8510-6004 IP to DVB-C modulator converting up to 30 H.264 channels in 8 frequencies
TBS8510-6004 IP to DVB-C modulator converting up to 30 H.264 channels in 8 frequencies
Model: IP to C Transcoding modulator
Weight: 15,000.00g
In Stock
The TBS8510-6004 IP to DVB-C modulator is a broadcast QAM modulator designed for full compliance with QAM (DVB-C) modulation standards. It supports IP inputs through GE ports and DVB-C output through RF port. It allows to generate up to 30 H.264 channels into DVB-C signal.
There is a MOST EXCITING function of The TBS8510-6004 IP to DVB-C modulator:
Compress the bit rate of the IP channels and transfer the format from H.265 to H.264 before generating to DVB-C signal.
Why we need to do this job?
If we want to broadcast the channels in old DVB-C system in remote area, the original H.265 IP channels are too big and occupy too much bandwidth of the old DVB-C system, which means we can broadcast very few channels. Also, some old TV set is only support H.264 channels. In the case, if we transcode the channels to standard DVB-C MPEG-2 signal in advanced, we will be able to broadcast as many channels as our plan in your DVB-C system, and we can make the channels being more compatible to users' old TV sets.
Key Features
Supports symbol-rate up to 45 Msymb/s
Output frequency range of 70 - 865 mhz
Supports constellations up to QAM256
Has high modulation error rate (MER)
Has output level of 80-107 dbµV
Can be produced from 1 to 32 independent modulation channels
Optionally has 10 mhz reference and DC injection
Main Functions
Transcoder H.264 channels in to MPEG-2 channels.
Convert IP channels to DVB-C channels and output through RF port.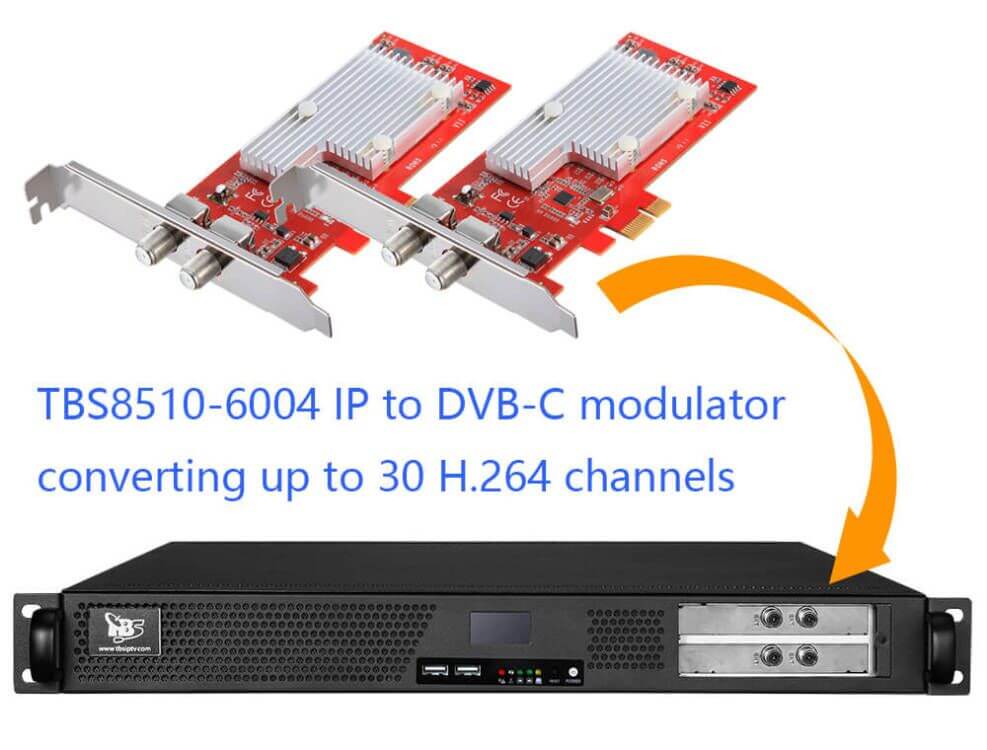 Specifications
Input
Input Signal
IP TS (MPTS/SPTS), 2x 100/1000M Ethernet ports
Transport Protocol
UDP, RTP, HTTP, HLS, RTSP, Media Files, RTMP Unicast and Multicast, IGMP v2/v3
Transmission Rate
Up to 840Mbps for each GE port
Multiplexing
Input Channels
200 HD channels or 400 SD channels in Max.
Output Channels
30 HD channels or 60 SD channels in Max.
Function
PID remapping automatically
Accurate PCR adjustment
Automatic PSI/SI table generation
Transcoding
Video Codecs
MPEG-2, AVC/ H.264, HEVC / H.265
Audio codecs
AAC, MP2, MP3, AC-3
Resolution
1920x1080P, 1920x1080i, 1280x720P, 1024x576, 720x576i, 720x480i, 480x576, 544x576, 640x576, 704x576
Rate Control
CBR VBR
Modulation
Modulation Standard
EN300 429/ITU-T J.83 Annex A and B (DVB-C) in 4 frequencies
Symbol Rate
5.0Msps ~ 7.0Msps, 1ksps step
FEC
RS (204, 188)
Constellation
16/32/64/128/256QAM
Bandwidth
6M/8M
RF Output
Interface
F-type connector
RF output frequency
50~960MHz, 1KHz step
RF output level
-20~+10dbm(87 ~ 117 dbµV), 0.1db step
MER
≥40db