TBS6508 Multi-standard Octa Tuner PCI-E Card
TBS6508 Multi-standard Octa Tuner PCI-E Card
Model: TBS6508
Weight: 750.00g
Reward Points:429
In Stock
TBS6508 is a Octa PCI express TV tuner card that supports multiple digital TV standards including DVB-S2X/S2/S/T2/T/C2/C/ISDB-T, four RF IN is independent with each other. With this multi-standard TV tuner card, it is much easier to switch between different digital TV signals.
TBS6508 not only supports normal DVB-S2X/DVB-S2/S QPSK, 8PSK which is supported by normal satellite receivers, but also supports CCM, VCM, 16APSK, 32APSK Stream Mode, which most satellite receiving devices can't support. With use of dedicated TBS tools, those special streams can be captured.
Both Windows BDA driver and the latest kernel 5.X Linux driver are ready.With Octa tuners, TBS6508 enables you to watch TV channel from one transponder/satellite while recording other channels from other transponder/ satellite at the same time.
Main Features:
DVB-S/S2/S2X, DVB-T2/T, DVB-C2/C(ITU-T J.83 Annex A/B/C), ISDB-T
Fast scanning functionality for all media
Support VCM, CCM, QPSK, 8PSK, 16APSK, 32APSK;
Up to 173M/bps(TS Data Rate)
Octa flexible TS interfaces
Applications:
Data receiving
Media monitoring
Digital content distribution

How it works?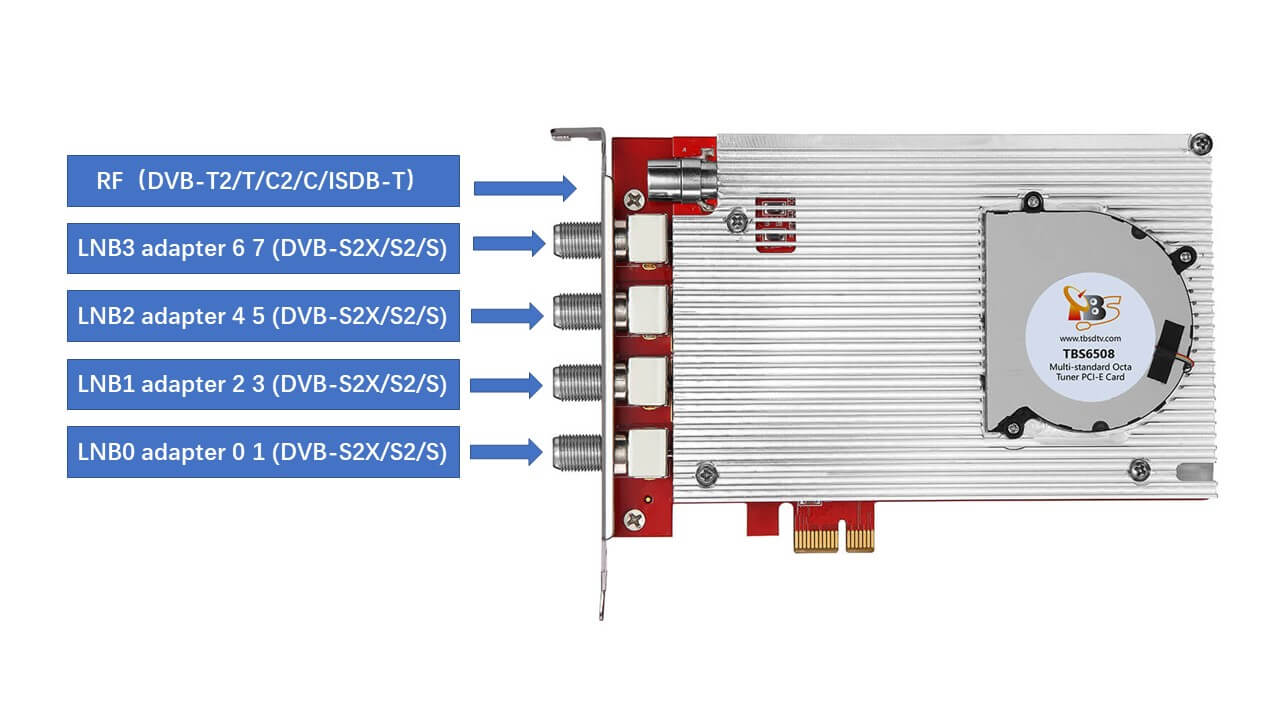 Attention:
One LNB can receive signals from one transponder, each two adapters should maintain the same settings for Low/High band and vertical/horizontal level.
For example, LNB0, the two adapters 0 and 1 should be the same as HH HH,VL VL, HL HL, or VH VH
Specification
Model
TBS6508
DVB-S/S2/S2X
symbol rates: 1-45Msps

FEC:

DVB-S/S2

QPSK: 1/2, 3/5, 2/3, 3/4, 4/5, 5/6, 8/9, 9/10
8PSK: 3/5, 2/3, 3/4, 5/6, 8/9, 9/10
16APSK: 2/3, 3/4, 4/5, 5/6, 8/9, 9/10
32APSK: 3/4, 4/5, 5/6, 8/9, 9/10

DVB-S2X

QPSK: 13/45, 9/20, 11/20
2_4_2_APSK: 100/180, 104/180
8PSK: 23/36, 25/36, 13/18
8_8_APSK: 90/180, 96/180, 100/180, 18/30, 20/30
16APSK: 26/45, 3/5, 28/45, 23/36, 25/36, 13/18, 140/180, 154/180
4_12_16rb_APSK: 2/3
4_8_4_16_APSK: 128/180, 132/180, 140/180

ISDB-T
COFDM demodulator and FEC decoding
Support 3 layers decoding
TMCC decoding
Support differential demodulation
AC1 and AC2 decoding
DVB-T2 and T2-Lite
Receiving channel: VHF band, UHF band
Bandwidth: 1.7, 5, 6, 7, 8MHz
FEC: QPSK, 16QAM, 64QAM,256QAM
FFT mode: 1K, 2K, 4K, 8K, 16K, 32K
Code rate: 1/2, 2/3, 3/4, 5/6, 7/8
DVB-C2
COFDM demodulator(16_QAM to 4096_QAM)
FEC(LDPC/BCH) decoder
Bandwidth: 6MHz, 7MHz, 8MHz
DVB-C and ITU-T J.83 Annex B
QAM demodulator
FEC decoder
1 to 7.2 MSymbol/s
Power consumption
Input/ Power:
12V/6~18W
temperature
0° ~ 60°
Other information:
System Requirements
Windows XP / Vista/ 7/8/10, Linux
Available PCI Express x1, x4, x8 or x16 slot
Digital TV signal(ISDB-T/DVB-T2/C2/S2X/S2/T/C/S)
Dimension:
TV tuner card size
15 * 10.5 * 2(cm)
Net weight
230g
Gift Box Size
18 * 16.3 * 8.5(cm)
Weight
320g
Package Contents
1 x TBS6508
1 x DC cable
1 x F-IEC adapter