TBS2603 PoE NDI®|HX Supported H.265/H.264 Video Encoder / Decoder
TBS2603 PoE NDI®|HX Supported H.265/H.264 Video Encoder / Decoder
Model: TBS2603 PoE
Weight: 510.00g
Reward Points:379
In Stock
TBS2603 PoE is a NDI®|HX supported H.264/H.265 video Encoder, a professional HD video Encoder/ Decoder, and a HDMI/USB video recorder. With PoE(Power over Ethernet)support, it will receive electrical power as well as the data from a standard Ethernet cable, which made the installation simpler than normal encoders and no need power supply anymore. What's more, PoE injectors and switches will not damage any equipment, IEEE802.3af/at/bt compliant PoE technology is safe.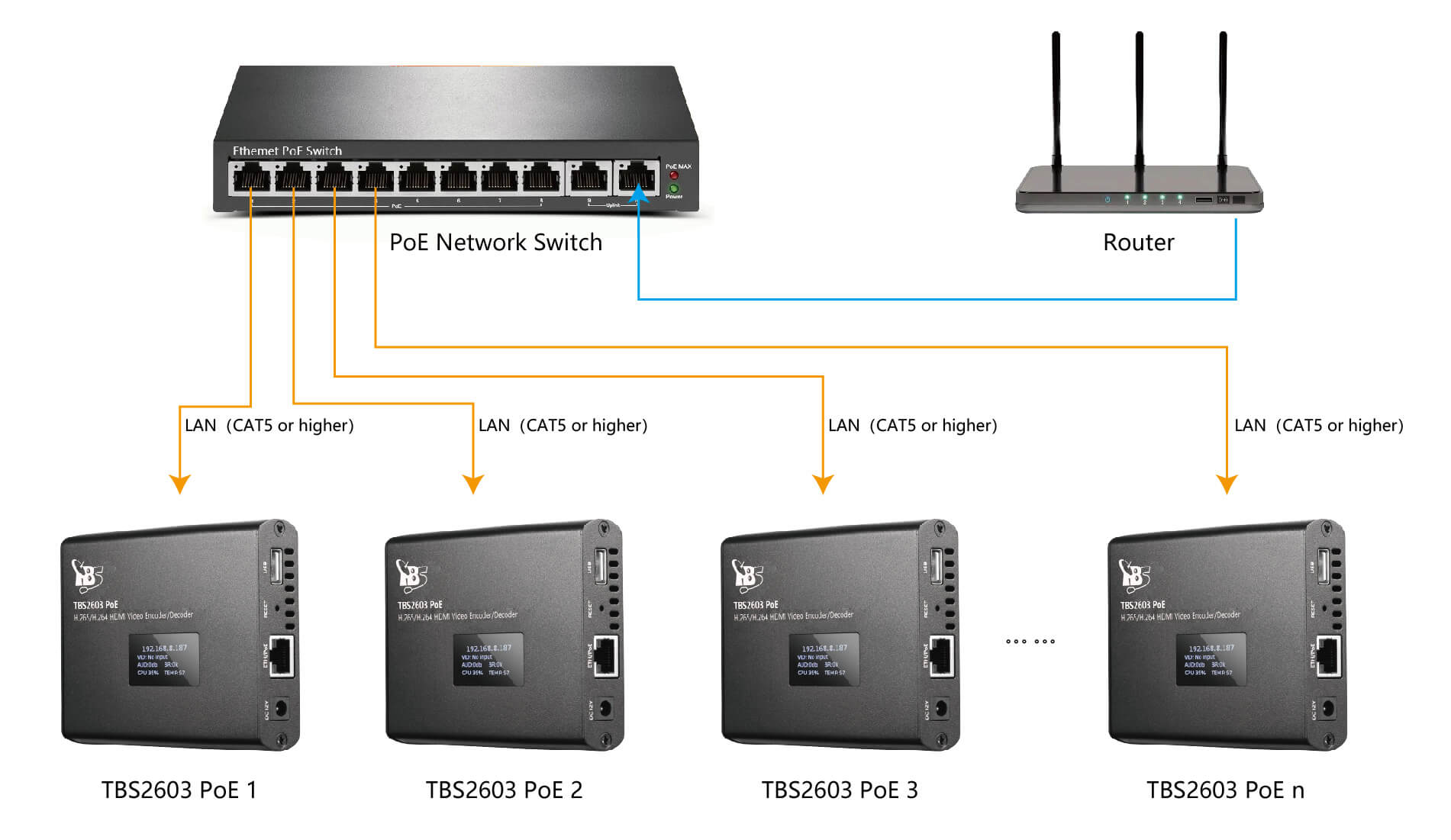 As an encoder, TBS2603 PoE allows to send your video source through the local network, over Ethernet in normal protocol of HTTP/HLS/RTSP/RTP/UDP/RTMP/RTMPS, or in NDI®|HX streams for use with other NDI®|HX compatible systems.
As a decoder, TBS2603 PoE supports video source from HDMI video, IP streams or NDI®|HX streams. It supports "H.265 Main Profile, Level 4.1 & H.264 Baseline/Main/High Profile Level 4.2" decode. Up to H.265 Main 1920x1080@60fps decode.
TBS2603 PoE NDI®|HX use a high efficiency, low bandwidth form of NDI®, which allows to send your HDMI video source through your local network, over Ethernet for use with other NDI®|HX compatible systems. It helps to connect your video cameras and other devices to your live production system, video applications or streaming devices.
Features
Visual input (Preview)
HDMI video input, UVC Camera input or NDI®|HX streams input.
NDI®|HX streams output, HDMI video out, or USB output for recording
H.264/H.265 Encode & Decode, up to 1920x1080P_H.265@60fps Encode. And H.265 Main Profile, Level 4.1 Decode
HDMI-embedded & Line-in Audio input
AAC, MP3, MP2, PCMA audio encoding
MP4/TS/FLV/MKV/MOV format recording
Bitrate is adjustable 500kbit/s ~ 20Mbit/s
Support HTTP, HLS(m3u8), SRT, RTP/UDP Unicast, Multicast, RTSP, RTMP/RTMPS, ONVIF
Support NDI | HX2 based on NDI 5.x
Support inserting Logo, Text, Mosaics and Time Display to the video
Support output displayed video resolution and frame rate setting (max 1920x1080P@60hz)
Applications: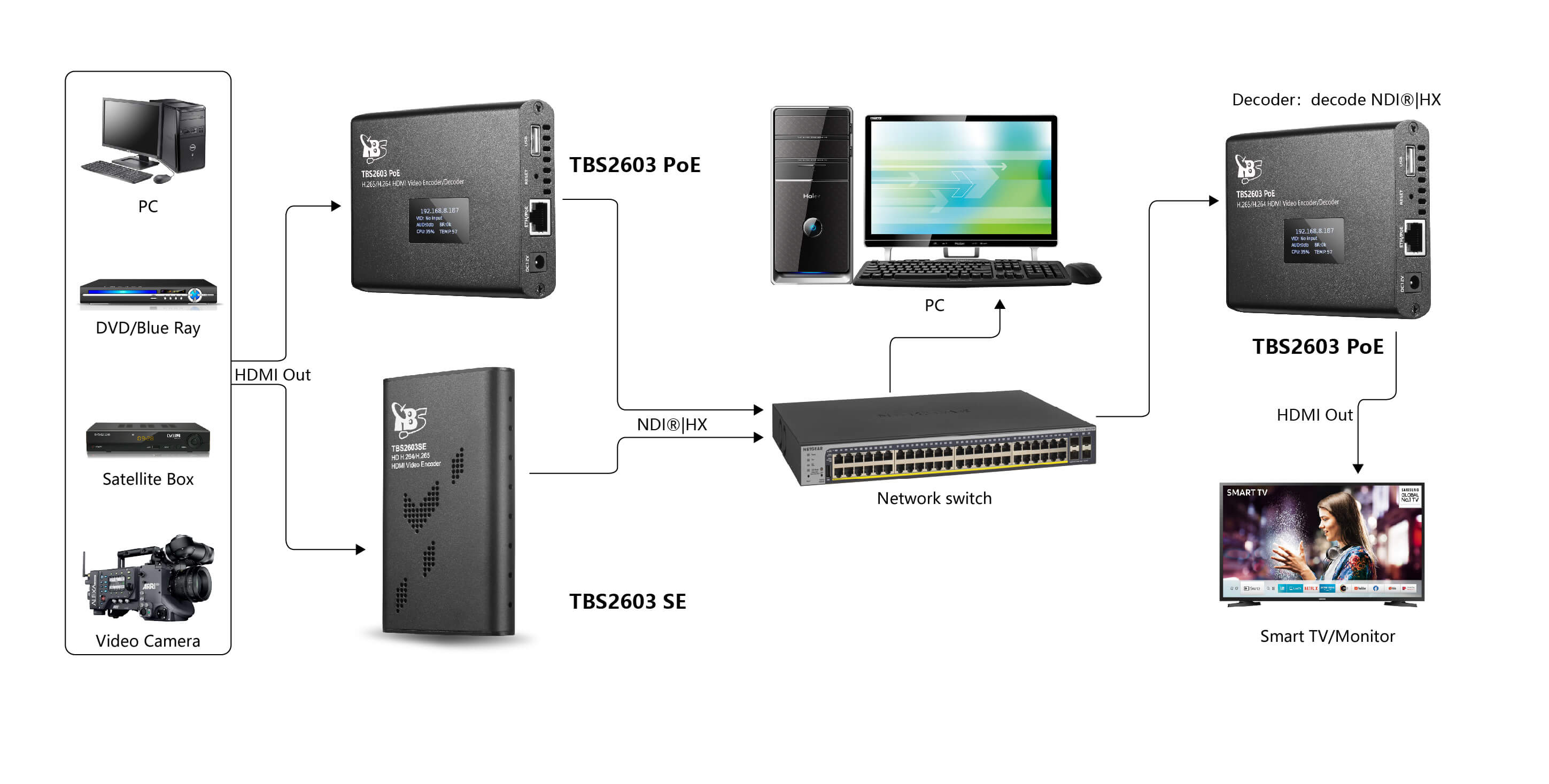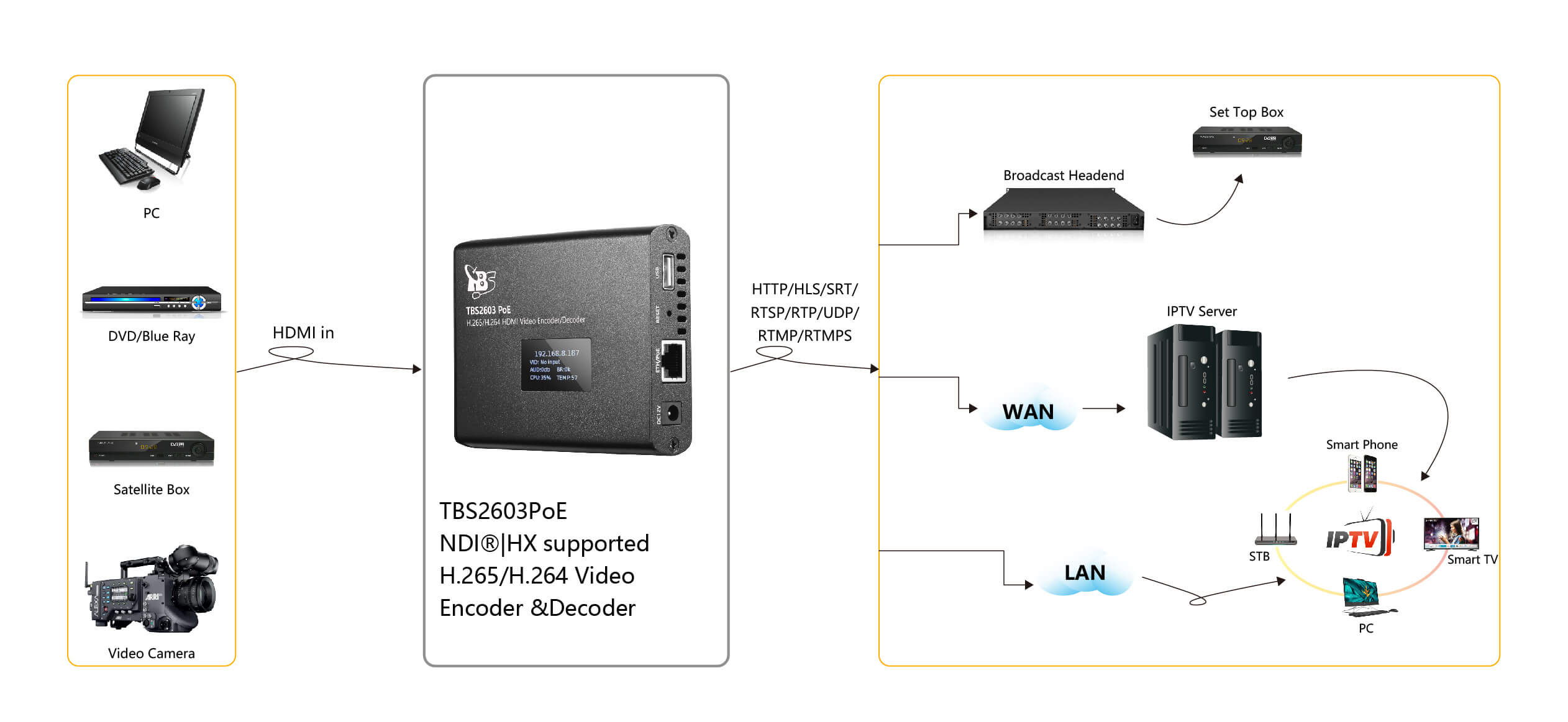 Live broadcasting to Social Media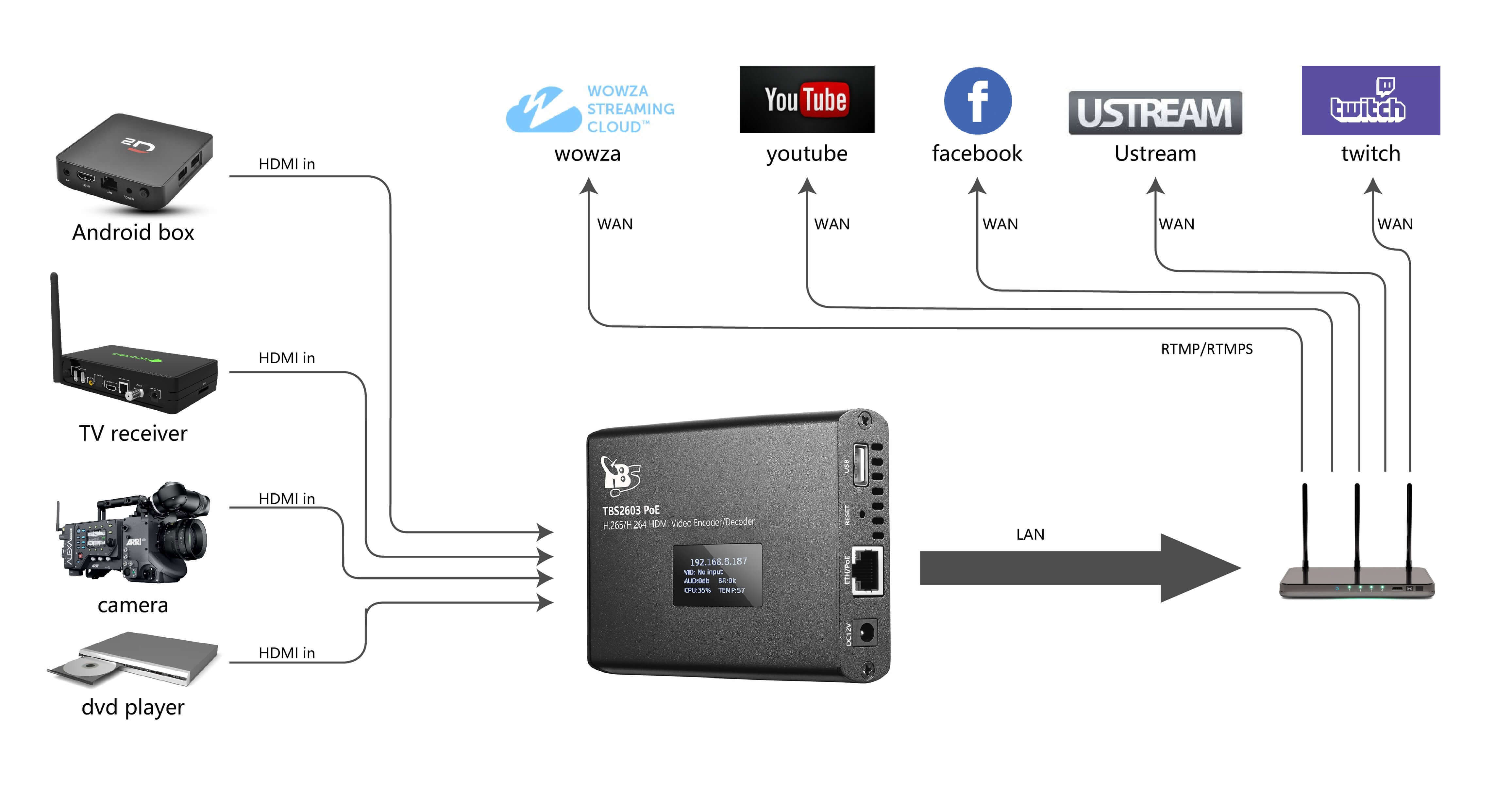 Specification
Model Number
TBS2603 PoE
Video Input
1x HDMI 1.4, NDI®|HX streams, 1x USB2.0 from UVC Camera
Audio Input
HDMI-embedded, Line-in (Jack 3.5mm)
OLED display
IP, input video resolution, CPU utilization, Core temperature
Encode
Video Input Resolution
1920x1080P_50/60HZ, 1920x1080I_50/60HZ, 1280x720P 50/60HZ
720x576, 640x480, 360p, and etc.
Video Output Resolution
1920x1080P@60fps; 1680x1050; 1280x720; 1024x576; 850x480;
720x576; 720x480; 640x480; 480x360; 360x240; auto; customized and etc.
Video Encode
H264 Base line, H264 Main, H264 High, H265 Main
Video Bit Rate
0.5Mbps-20Mbps
Bit Rate Control
CBR, VBR, AVBR, FIXQP
Protocol
NDI®|HX, HTTP, HLS(M3U8), RTSP, SRT, RTP/ UDP Unicast/ Multicast, RTMP(RTMPS)
Audio Encode
AAC, MP3, MPEG2, PCMA
Audio Sampling rate
16K, 32K, 44.1K, 48K
Audio Sampling precision
16 bit
Audio Bit Rate
32Kb/s ~ 256Kb/s
Network Stream IN
Video
H264 Baseline, Main, High Level 4.2; H265 Main, Level 4.1
Audio
MPEG2, MP3, AAC
Protocol
NDI®|HX stream, HTTP, RTSP, RTP/UDP, SRT, RTMP (pull)
Decode
Video code
H.265 Main Profile, Level 4.1, H.264 Baseline/Main/High Profile Level 4.2
Audio code
Mpeg2, MP3, AAC
Source
HDMI in decode; Network stream decode, NDI decode
Record
USB record
To USB flash disk or USB hard disk
Format
*.MP4, *.TS, *.FLV, *.MKV, *.MOV
System
Ethernet / RJ45
1000 Base-T Ethernet interface IEEE 802.3af PoE supported
Supported System
Windows XP/ VISTA/ SERVER/ WIN7/ WIN10, Linux, MAC OS
Control
WebUI
General Spec.
Dimension
100 * 60 * 31.5mm
Power Consumption
Less than 6W