TBS2801 Professional 4K 60Hz HD H.265 & H.264 HDMI Video Encoder
TBS2801 Professional 4K 60Hz HD H.265 & H.264 HDMI Video Encoder
Model: TBS2801
Weight: 1,500.00g
Reward Points:869
In Stock
Description

Video

Download
TBS2801 Professional 4K 60Hz HD H.265 & H.264 HDMI Video Encoder
------ Simple, Powerful and Reliable

TBS2801 is a professional H.265 HDMI Video Encoder that enables high-quality content streaming and display. It supports maximum of 4K@60Hz HDMI input and can stream to popular online media platform such as YouTube Live, Facebook Live, Twitch or to a custom-specified RTMP/RTMPS servers. It compatible with HTTP/HLS(M3U8)/RTSP/RTP/UDP /Unicast & Multicast/SRT/RTMP/RTMPS, what's more, it supports multiple protocol output, up to 6 protocols at the same time.
TBS2801 supports to capture and record HD content in H.265/H.264 format from playstations and digital video cameras. Besides, with flexible web UI control, it can easily switch between channels and adjust configurations, offering better TV viewing experience.


Feartues:
Supports H.265/HEVC and H.264/AVC compression
Supports up to 4K@60Hz HDMI input
Zero-latency HDMI loop-out, up to 4K@60Hz
Controlled by user-friendly web UI
Supports multiple streaming protocols, including HTTP/HLS(M3U8)/RTSP/RTP/UDP /Unicast & Multicast/RTMP/RTMPS
Applications:
IPTV Servers
Datacasting and monitoring
Live TV Encoding and streaming
Broadcast TV
IPTV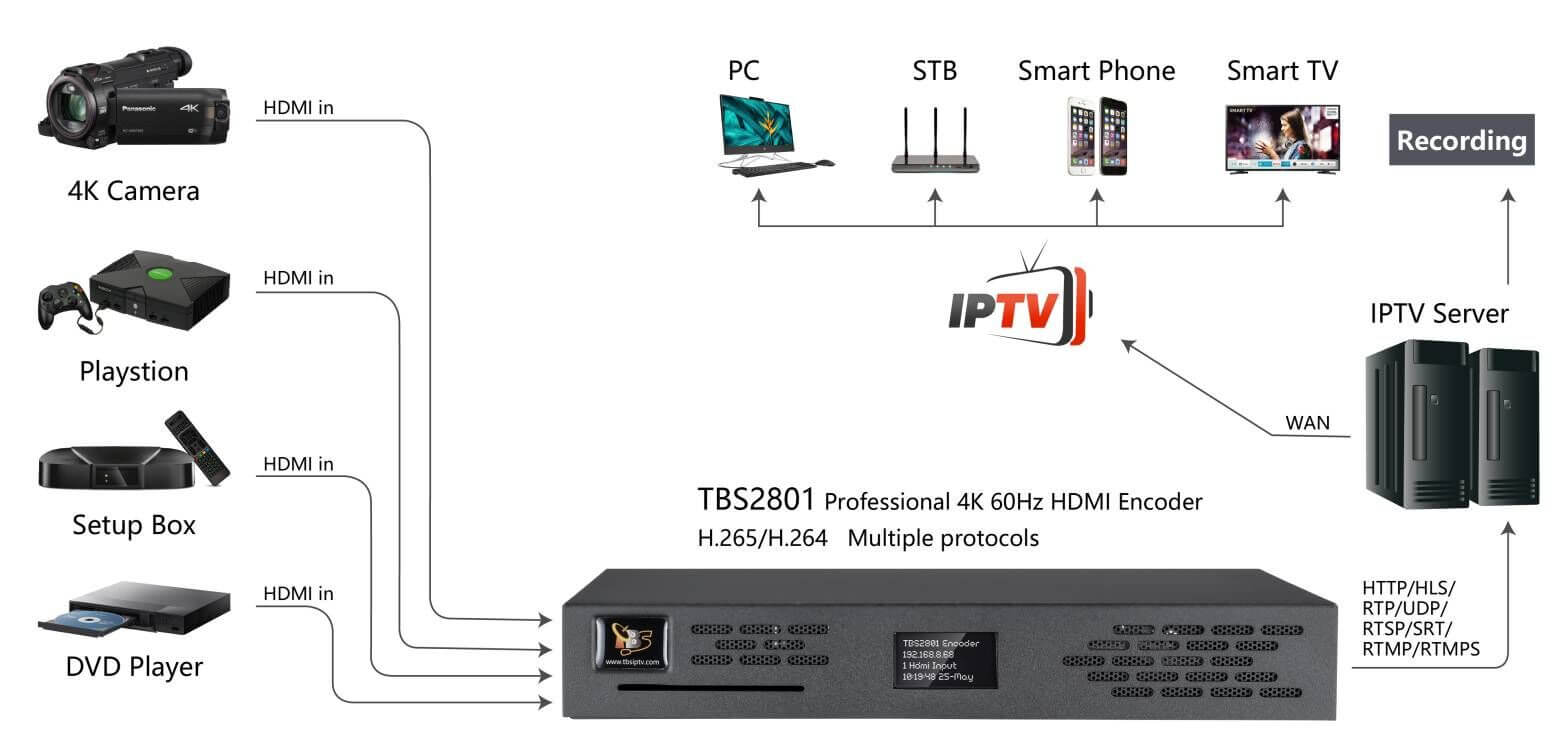 Live streaming to social media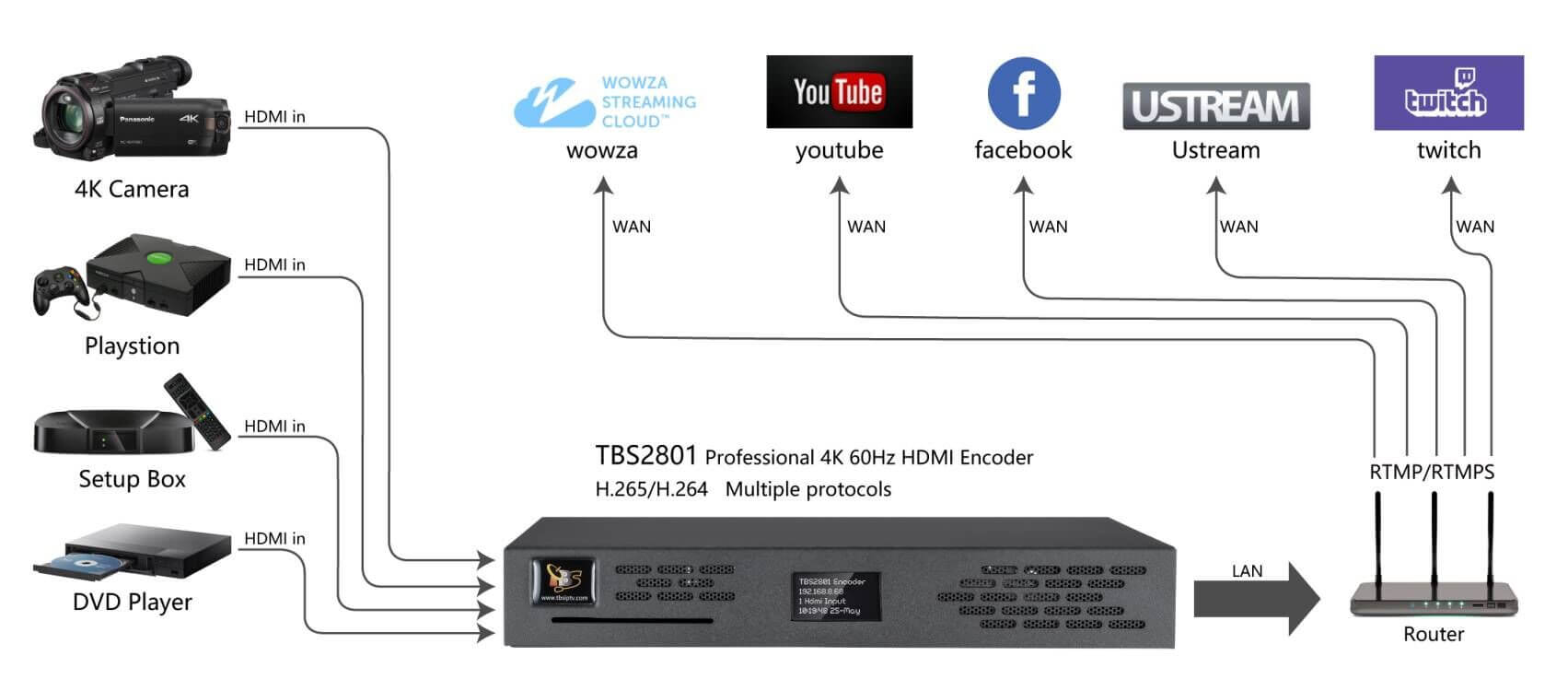 Why choose TBS2801?
- Supports real 4K@60Hz encode
3840x2160p@60fps (H.265) , real 4K encode
Capture & Deliver Live Video in 4K Ultra HD over Public Internet
Real-time encoder supporting resolutions up to 4K with H.264/H.265 encoding.
Efficient encoding leads to bandwidth savings, even at high resolutions.
- Multiple protocol output
Compliant with HTTP/HLS(M3U8)/RTSP/RTP/UDP /Unicast & Multicast /SRT/RTMP/RTMPS
Each channels have multiple protocols for outputting

- Friendly web UI for control
Reliable Web UI let you easy to setup and manage.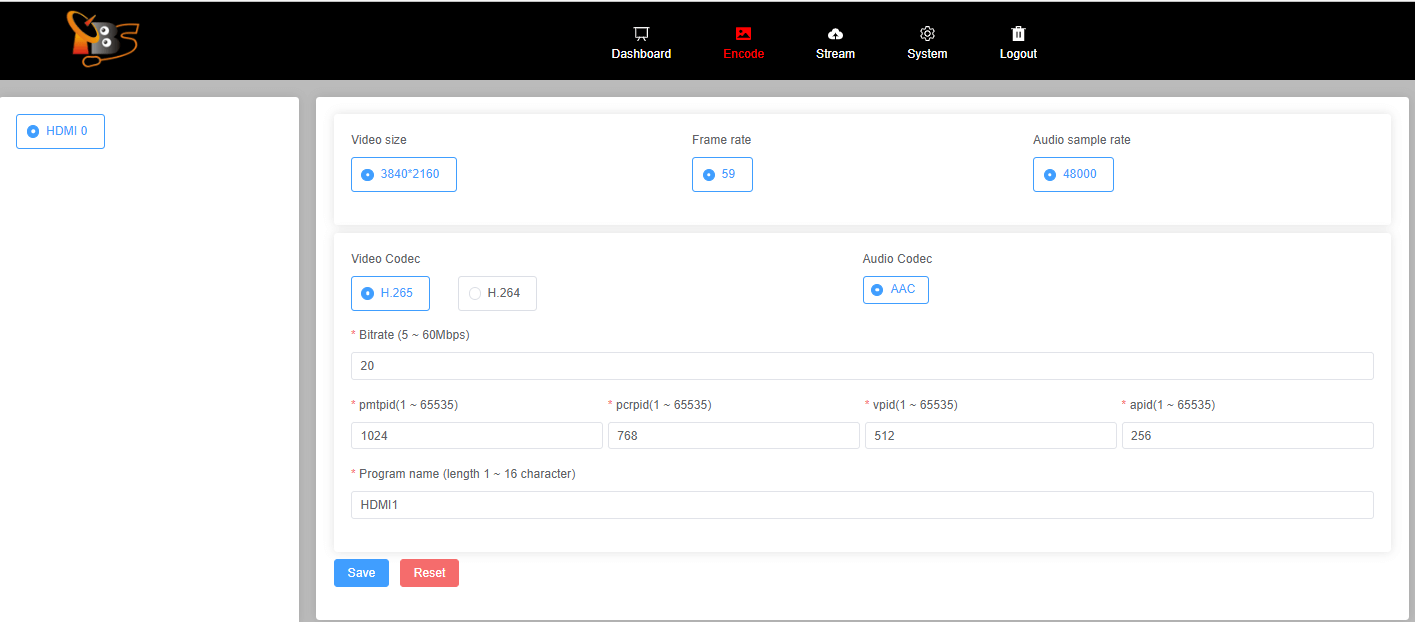 Specification:
Model No.
TBS2801
Input Interface
1x HDMI 2.0, HDCP 2.2
Video Input
3840x2160p_60hz, 3840x2160p_50hz, 3840x2160p_30hz,3840x2160p_24hz,
1920x1080p_60hz, 1920x1080p_50hz,1920x1080p_30hz,720p_60hz,720p_50hz,
or lower Progressive input (does not support "Interlace" Input)
Video Output
3840x2160p@60fps(H.265), 3840X2160p@50fps(H.265),3840x2160p@30fps,3840x2160p@24fps,1920x1080p@60fps, 1920x1080p_50fps,1920x1080p_30fps,1280x720p@60fps,1280x720p@50fps or lower
Sampling format
YUV4:2:2,YUV4:2:0
Video Codec
H.265/H.264
Bit Rate Control
CBR
GOP Length
0.5sec
GOP Structure
I,P
Bitrate
1-70Mbps
Bite depth
8 bit
Audio Input
HDMI embedded
Audio Codec
AAC
Output Protocol
HTTP, HLS(M3U8), RTSP, RTP/UDP Unicast & Multicast,SRT, RTMP/RTMPS
Control
Web UI
Ethernet/LAN
1000M Base-T Ethernet Interface
Dimension
230mm* 180mm * 34mm
Power Consumption
less than 12w