TBS5302 1080P USB3.0 HDMI Video Capture Card
TBS5302 1080P USB3.0 HDMI Video Capture Card
Model: TBS5302
Weight: 700.00g
Reward Points:120
In Stock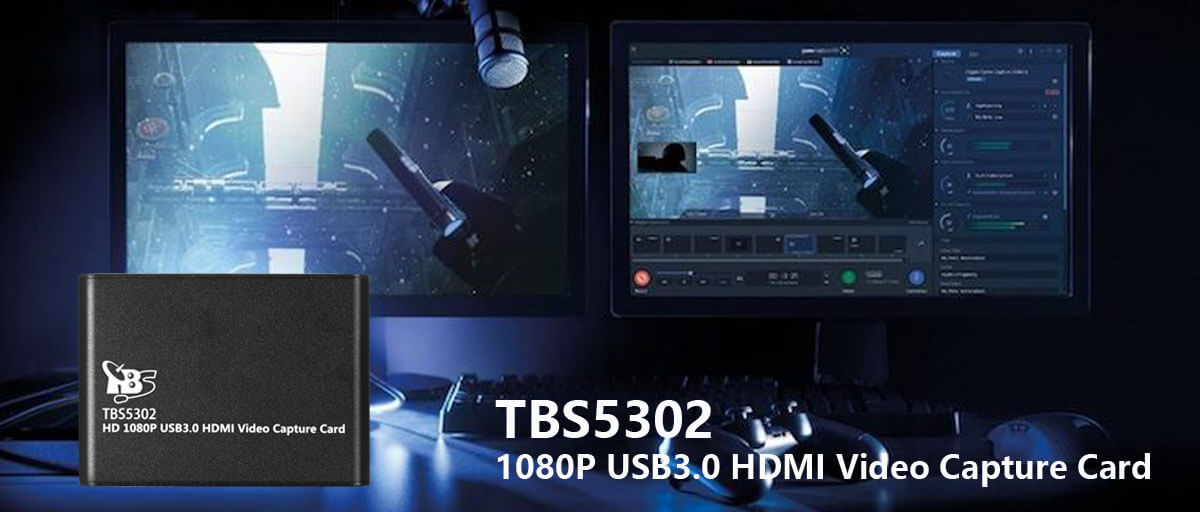 TBS5302 1080p USB3.0 HDMI HD Video capture card with HDMI 1.4 port is a device which has a strong performance, superior compatibility, simple installation and many other features. It completely supports full HD Video and Audio capture and playback. It not only can capture one HD 1080P 60FPS input and output signal, but also offers a separate 3.5 mm audio input for accompanying audio or voice-overs, and a HDMI loop out port for connecting another HDMI device while you are making live stream.
TBS5302 supports Windows 8/10 and is compatible with many USB3.0 chipset(Intel , Renesas , ASMedia , FrescoLogic ), PC le Gen1.1 x1 expansion via USB3.0 interface. The HD video capture meets UVC and UAC standard , without having to install drivers and settings. It is truly Pnp and easy to use.
Record your favorite show and keep the wonderful memories.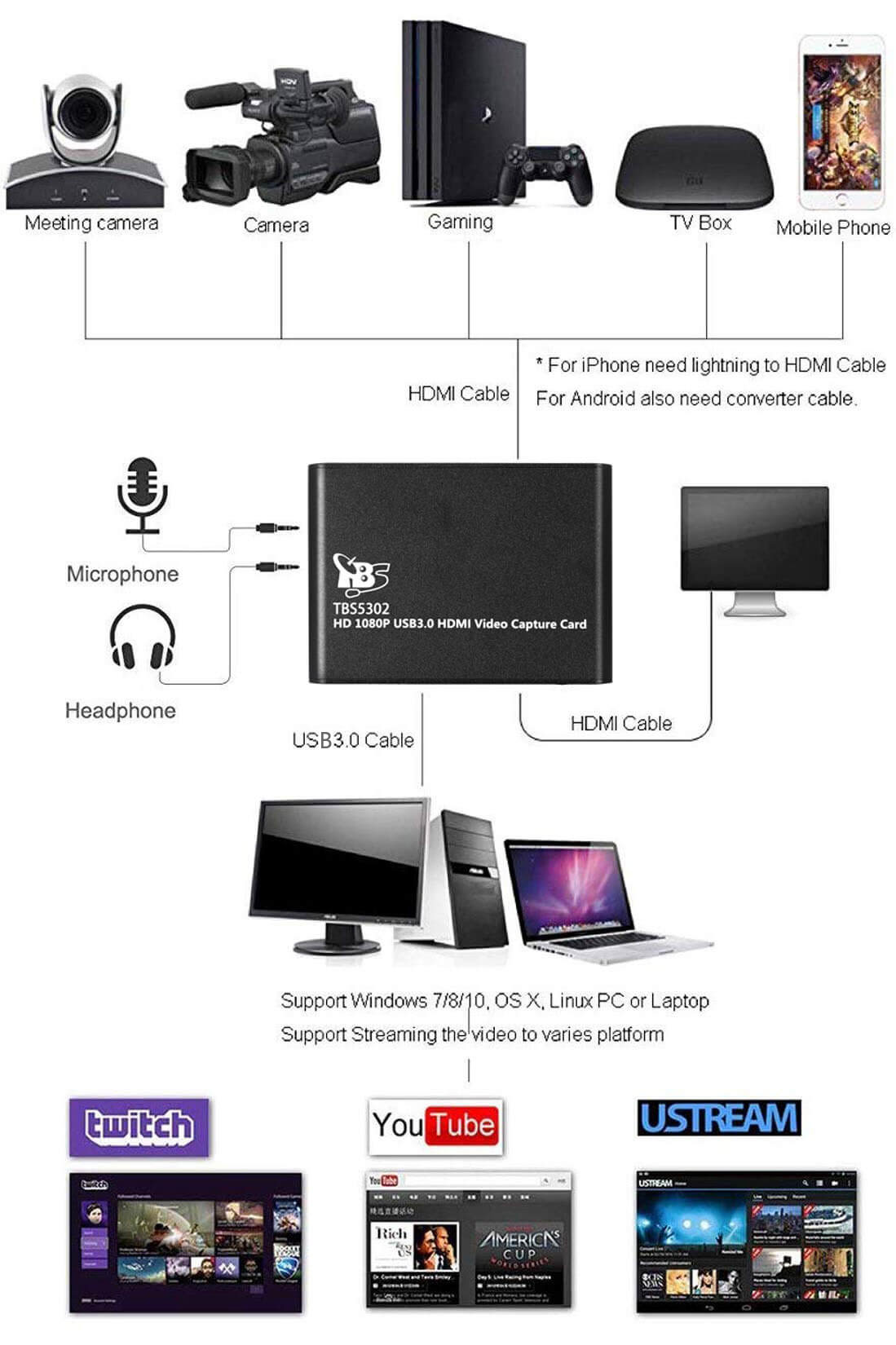 Ideal item for super gamer to record or re-stream the gameplay at the same time.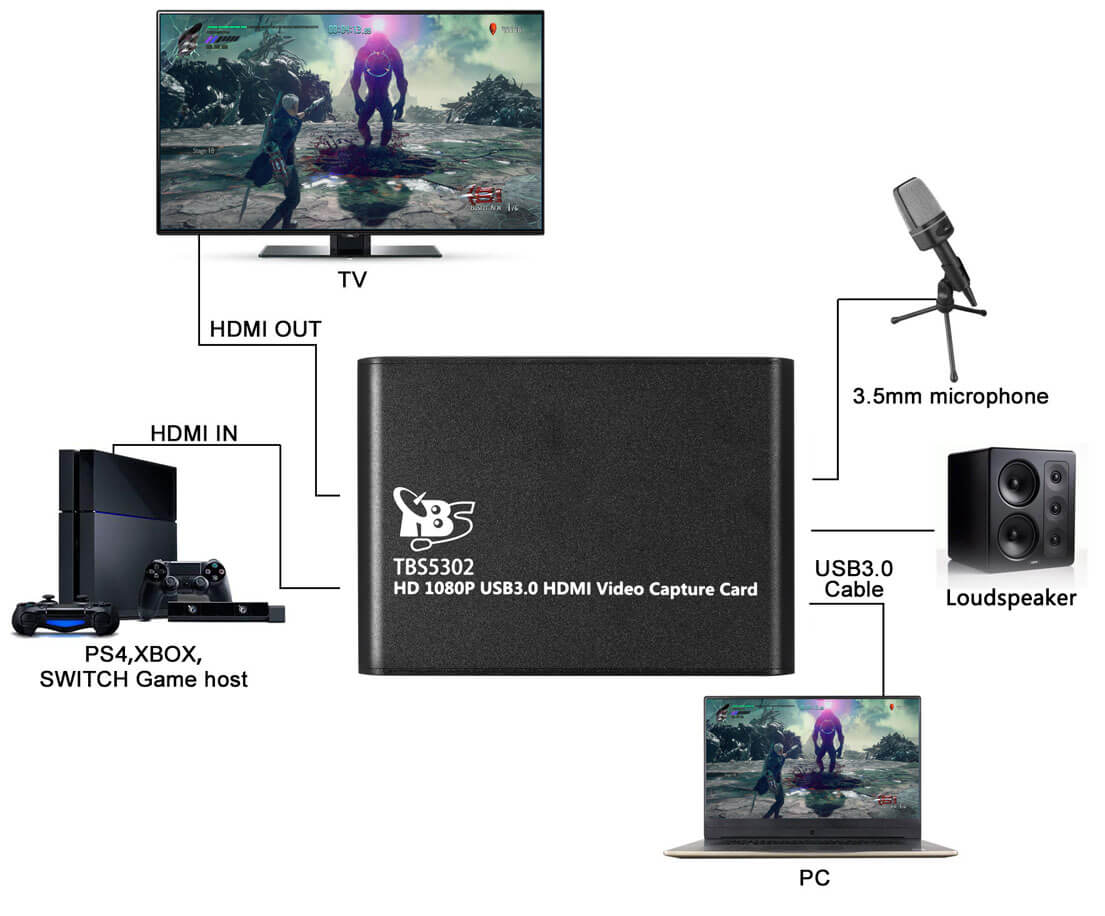 Key Features
Compatible with windows 8 and windows 10, no need to install driver, truly PnP.
Compatible with all 1080P 720P hdmi device, such as Wii U, PS4, PS3, Xbox One, Xbox 360, Wii, Nintendo Switch, DVD, camera, ZOSI security camera, DSLR and set top box etc.
The HD video capture card can support HDCP 1080P with 60FPS, it is very suitable to use it for game live streaming.
USB3.0 high speed transmission port,let your live streaming to Twitch, Youtube, OBS, Potplayer and VLC more easily.
3.5mm embedded audio source
Easy video recording on Windows
Compatible with UVC and UAC
HDMI loop out port for connect with another HDMI device when you are making a live stream
Specification:
Interface
USB3.0
Video input
HMDI 1.4
Input Resolution
1920x1080_P/I 60hz; 1920x1080_P/I 50hz;1920x1080_P 30hz;1920x1080_P 25hz;
1920x1080_P 24hz; 720_P 60hz; 720P 50hz;576_P/I; 480_P/I
Video Output
1920x1080 60fps
Audio input
HDMI embedded
3.5mm microphone
Audio output
HDMI loop out
Earphone, loudspeaker
Video Capture
Standard of UVC and UAC
Application
Windows Media Encoder; Adobe Flash Media Encoder;RealRpoducer Plus;
VLC Media Player; Wire cast; Pot Player; OBS
Software compatible
Windows Media Encoder
Adobe Flash Media Live Encoder (windows)
Real Producer Plus (Windows)
VLC (Windows)
Quick Time Broadcaster (Windows)
Quick Time Player (Windows)
Wire Cast (Windows )
Pot Player( Windows)
Size
88*63*22mm
Consumption
less than 2.5W
Temperature
0-50℃
Storage temperature
-20~60

℃

Storage humidity
5%-90%
system
OS
Windows® 10 / Windows 8.1 / (Windows 7 (SP1)need install driver) Linux (kernel version 2.6.38 and above)
PC
Intel® Core i5 -4400 3.10 GHz + NVIDIA® GeForce® GTX or more advanced
Laptop
Intel Core i7-4810 OMQ + NVIDIA GeForce GTX 870M or more advanced
RAM
8 GB
Mobile phone
Android phone Only support USB2.0, not supports USB3.0 (because Adroid UVC driver not supports USB3.0)