TBS5590 Multi-standard Real-time Analysis & Monitoring Probe
TBS5590 Multi-standard Real-time Analysis & Monitoring Probe
Model: TBS5590
Weight: 800.00g
Reward Points:339
In Stock
TBS5590 is a DVB multi-standard external TV tuner box with USB2.0 interface. It is capable of receiving digital TV channels of multiple standards: DVB-S2X/S2/S/T2/T/C2/C/ASI/ISDB-T. Through the USB interface, you can easily plug the TBS5590 Universal TV Tuner box to your desktop or laptop PC for watching or recording different standards digital TV channels.
Coupled with TSReader software, TBS5590 is an ideal tool to do Real-time analysis, monitoring and recording of MPEG Transport Streams. TBS5590 is supported in TSReader 2.8.53 and later version, which includes source modules for each mode and will automatically reprogram the demodulator when changing modes.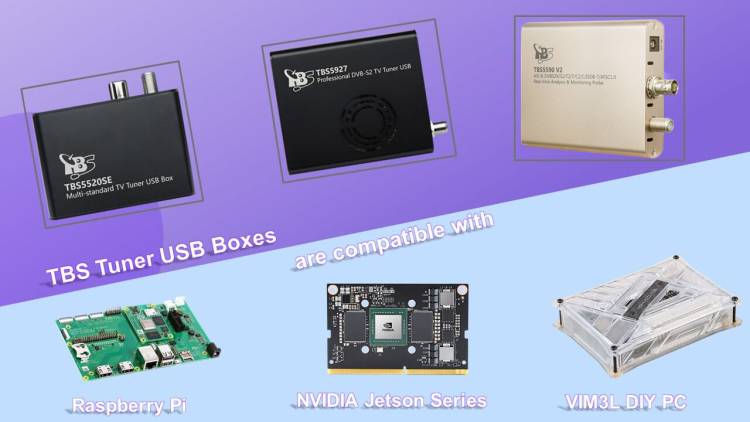 Features:
DVB-S2X/S2/S/T2/T/C2/C/ASI/ISDB-T, Multi-standard digital TV supported.
Universal USB TV tuner Box for watching or recording live TV channels.
Support Real-time TV stream Analysis & Monitoring
Support Bitrate measurement
Support elementary stream information analyzing.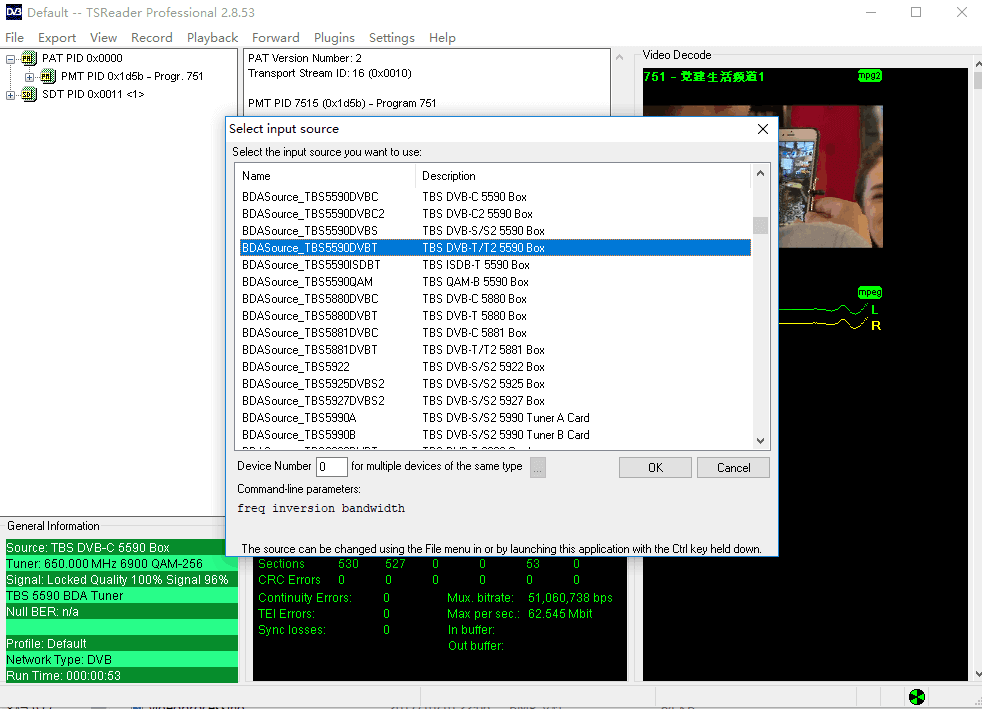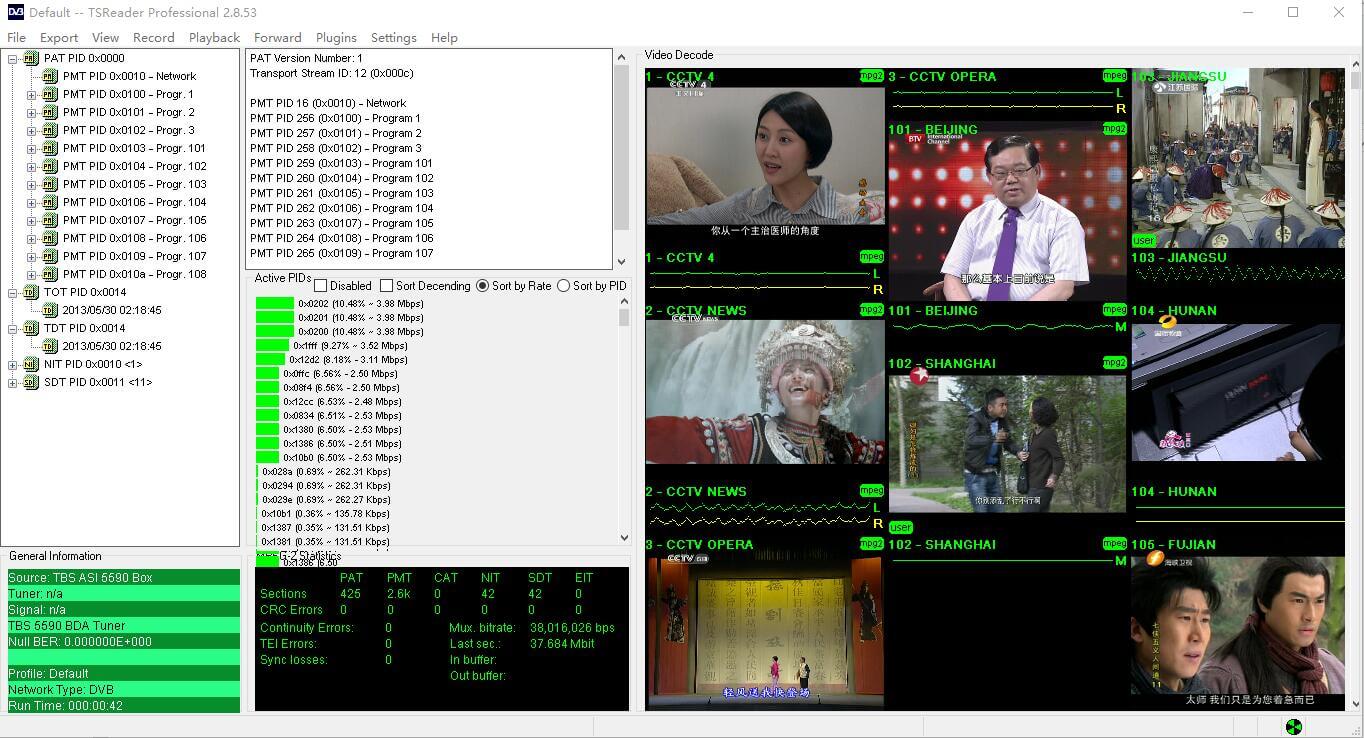 Specification:
Digital TV Standards:
ISDBT
COFDM demodulator and FEC decoding
Support 3 layers decoding
TMCC decoding
Support differential demodulation
AC1 and AC2 decoding
DVBT2 and T2-Lite
Receiving channel: VHF band, UHF band
Bandwidth: 1.7, 5, 6, 7, 8MHz
FEC: QPSK, 16QAM, 64QAM.256QAM
FFT mode: 1K, 2K, 4K, 8K, 16K, 32K
Code rate: 1/2, 2/3, 3/4, 5/6, 7/8
DVBC2
COFDM Demodulator(16_QAM to 4096_QAM)
FEC(LDPC/BCH) decoder
Bandwidth: 6MHz, 7MHz, 8MHz
DVBC and ITU-T j.83ANNEX B
QAM demodulator
FEC decoder
1 to 7.2MSymbol/s
DVB-S/DVBS2/DVBS2X
Symbol rates: 1-45Msps

FEC:

DVB-S/S2


| | |
| --- | --- |
| QPSK: | 1/2, 3/5, 2/3, 3/4, 4/5, 5/6, 8/9, 9/10 |
| 8PSK: | 3/5, 2/3, 3/4, 5/6, 8/9, 9/10 |
| 16APSK: | 2/3, 3/4, 4/5, 5/6, 8/9, 9/10 |
| 32APSK: | 3/4, 4/5, 5/6, 8/9, 9/10 |


DVB-S2x


| | |
| --- | --- |
| QPSK: | 13/45, 9/20, 11/20 |
| 2_4_2_APSK: | 100/180, 104/180 |
| 8PSK: | 23/36, 25/36, 13/188_8_APSK: 90/180, 96/180, 100/180, 18/30, 20/30 |
| 16APSK: | 26/45, 3/5, 28/45, 23/36, 25/36, 13/18, 140/180, 154/180 |
| 4_12_16rb_APSK: | 2/3 |
| 4_8_4_16_APSK: | 128/180, 132/180, 140/180 |

DVB-ASI
Up to 120Mbps
Power consumption
Input/power
12V/2A
Temperature
0~60℃
System Requirements
Windows XP / Vista/ 7/8/10, Linux
Available USB 2.0 slot
Digital TV signal ISDB-T/DVB-T2/C2/S2X/S2/T/C/S, and DVB-ASI
Dimension:
TV tuner box size
103 * 88 * 22mm
Net weight
260g
Gift Box Size
210 * 174 * 55mm
Gross Weight
800g
Package Contents
1x TBS5590
1X USB Cable
DC 12V Adapter