TBS260B DVB HD IP to ASI Converter
TBS260B DVB HD IP to ASI Converter
Model: TBS260B
Weight: 1,000.00g
Out Of Stock
TBS260B IP to ASI Gigabits converter is a head-end interface device which is used for DVB ASI and Ethernet. As a kind of IP receiver, this device can recover RTP/UDP database received from the transporting device into TS stream and then output it through the ASI output interface. It's as part of IP stream receiver to turn the IP stream to standard TS stream. Moreover, it has the function to resist the IP transporting shake, and to restore the PCR of the TS stream.
TBS260B converter could combine with a lot of TBS products to use, it is ideal for digital TV Broadcasting System, IPTV System, Head-end system of Digital TV branch network.

Features:
Supports IP to ASI conversion
Supports UDP/RTP, unicast and multicast mode
Power off memory, saving the settings for auto-loading after reboot
Application:
Digital TV Broadcasting System
Digital TV Programs Transmission
IPTV System
Head-end system of Digital TV branch network
CATV Broadcasting system
Edge side of Digital TV backbone network
Application one: TBS260B with MOI Pro AMD & TBS IP encoder
MOI Pro AMD server can receive different kinds of DVB broadcast TV signals and also can receive live streams from IP. Based on the "remux" function, all the video inputs channels will be multiplexed and combined to one new transponder stream and output via ASI or as a UDP content to IP simultaneously in broadcast quality.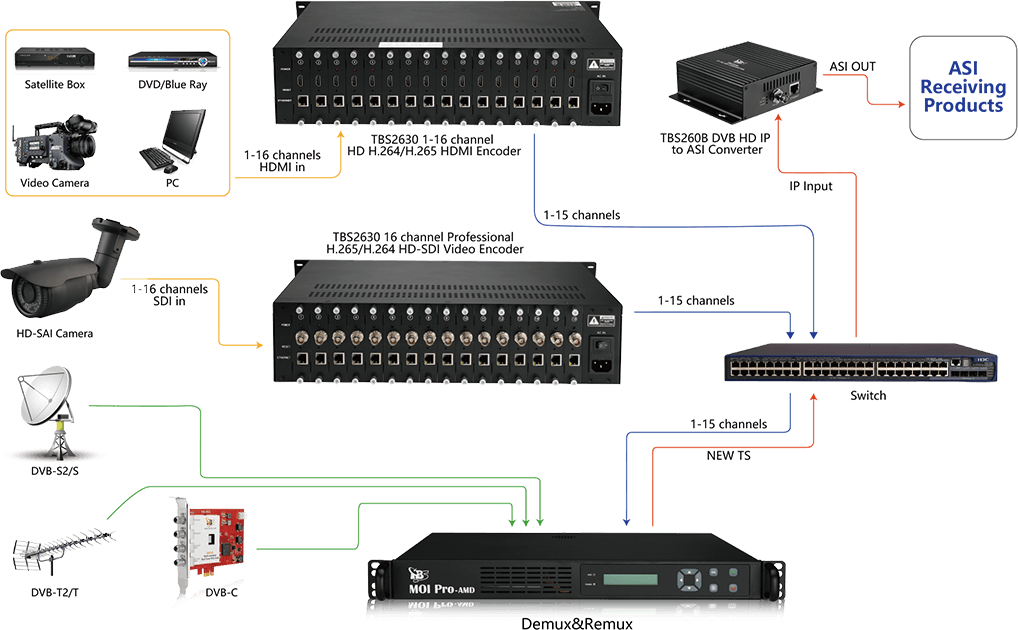 Application 2: Multi-channel H.265/H.264 HDMI encoder to ASI converter
Multi-channel IP encoder to ASI converter is a professional 14x HDMI H.265/H.264 audio/video encoding and 1x DVB-ASI output device, it can recover http database received from the 14 HDMI inputs into TS stream and then output it through the ASI interface. It has a main management board inside, based on the "remux" function, 14 HDMI H.265/H.264 video inputs will be multiplexed and combined to one new transponder stream and output via ASI or as a UDP content to IP simultaneously in broadcast quality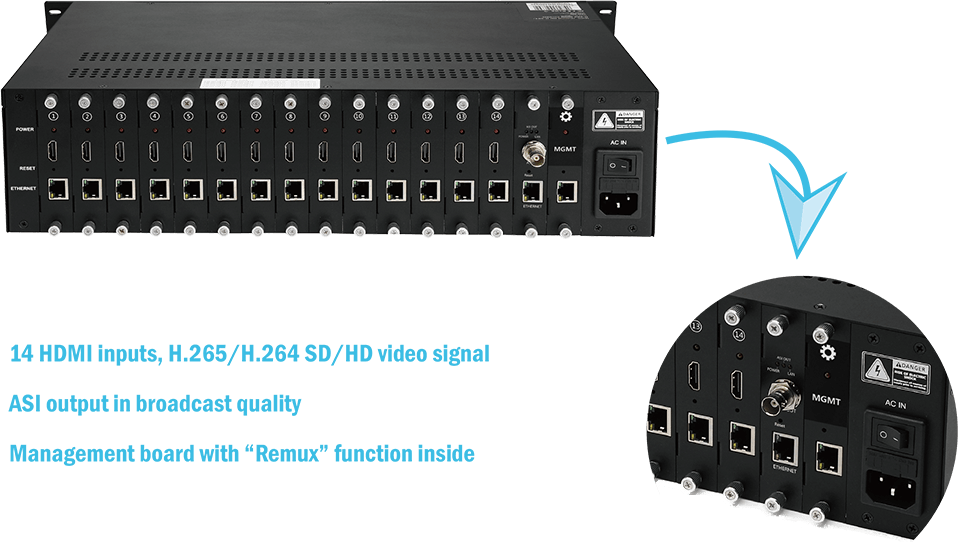 More info about this product, please click here
Specification:
Interface
RJ45 100/1000Mbps Ethernet interface
Function
IP to ASI conversion
Output
DVB-ASI
Stream input
Unicast /multicast, UDP/RTP Protocol
Stream output
TS stream
Control
Web Interface
Jitter tolerance
1 ~ 120ms
Output return loss
> 15dB
OS
Linux or Windows XP, 2k3/2k8, Vista, 7, 8/8.1, 10
Voltage
DC 12V
Power consumption
less than 2.5W
Dimension
114.6 * 11.1 * 4 cm
Weight
800g
Package Contents
1 x TBS260B DVB HD IP to ASI Converter
1 x Power Adapter
1 x DC Line
1 x BNC Cable