TBS6909 DVB-S2 8 Tuner PCIe Card
TBS6909 DVB-S2 8 Tuner PCIe Card
Model: TBS6909
Weight: 400.00g
Discontinued
Successor
TBS6909 is a powerful DVB-S2 octa tuner card with PCI Express interface, capable of receiving SD/HD digital TV channels from 8 different satellite transponders simultaneously, which is considered as a professional TV tuner for industrial-level users. When the PCIe slots in the server is limited, TBS6909 enables you to receive more channels than the usual dual or quad TV tuner. Thus it is highly recommended for broadcasting system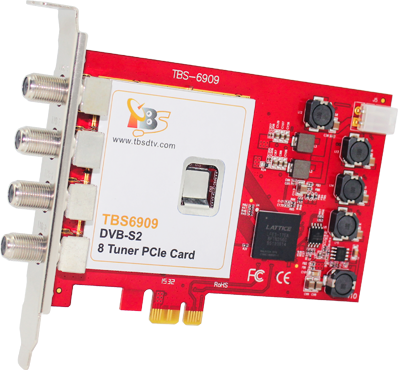 TBS6909 DVB-S2 Octa Tuner Card PCIe
DVB-S2/S; Octa tuner; Linux OS; PCI Express;

TBS6909 Three Signal Input Way
Default mode is multiswitch mode. The signal input can be like this:
Master output
Quattro-LNB/Multiswitch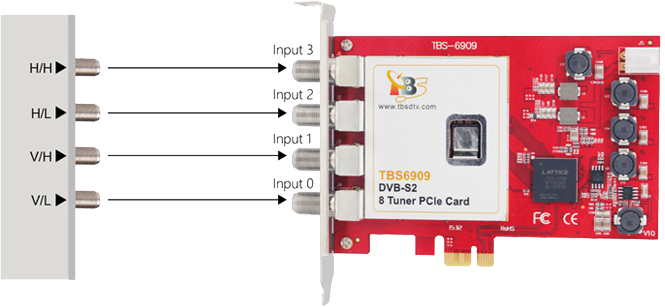 If you are using quattro LNB, you have 4 cables (V/L,V/H,H/L,H/H), connect the right one to TBS6909 like the above picture ( input 0- input 3 should be connected to V/L,V/H,H/L,H/H respectively).
Quad-LNB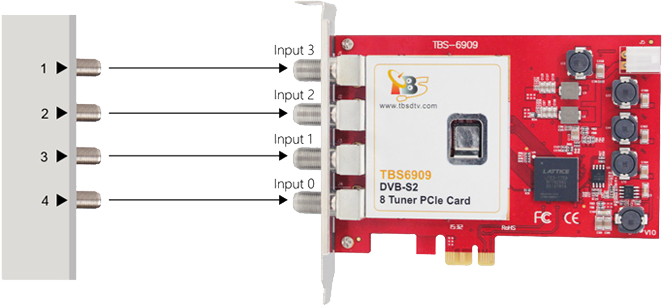 If you are using quad LNB, you can directly connect the 4 cables to the 4 ports of TBS6909.
Single C or Ku Band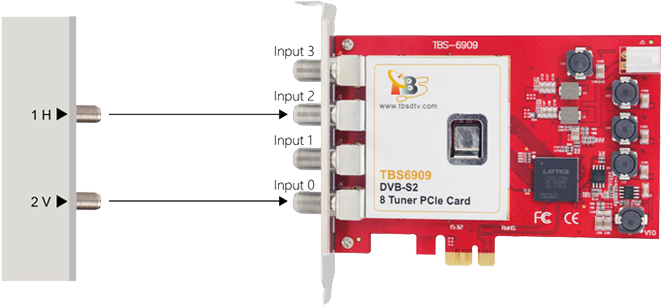 If you are using single C or Ku band, then two inputs are enough, you just need to connect the cables to input 0 and input 2 to provide V and H signal.
LNB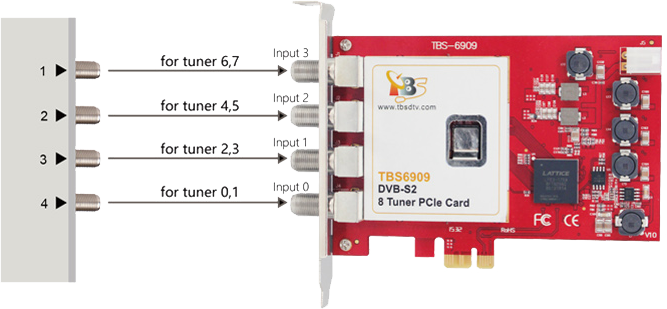 If you want to use DiSEqC with TBS6909, you could use this mode.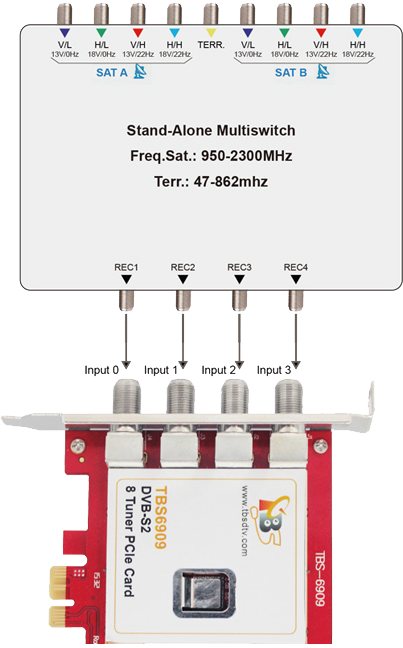 In some case multiswitch have more than one satellite input, need to choose the satellite first.
Digital Video Recorder
Benefits
DVB-S2/S 8 tuner
Watch & record satellite TV/ radio programs on PC
EPG (Electronic Program Guide) support
Unicable/one cable compatible
High-speed data download via satellite
Applications
Data receiving
Media monitoring
Digital content distribution
Package Contents:
1 x TBS6909
1 x Power cable

1x

TBS6909

user manual



Specifications
Frequency range: 950~2150 MHz
Signal Level: -85~-10dB
Symbol rate: 1~45Msps
Demodulation:
DVB-S QPSK, DVB-S2 8PSK
FEC:
8PSK: 3/5, 2/3, 3/4, 4/5, 5/6, 8/9, 9/10
DVB-S
QPSK: 1/2, 2/3, 3/4, 5/6, 7/8
DiSEqC support: 1.0, 1.2, 2.x
Connections
System Requirements
Linux OS
Available PCI Express x1, x4, x8 or x16 slot
Satellite dish and LNB
Power consumption :13-24W

Download & Software:
TBS6909 DVB-S2 Octa Tuner PCIe Card Data Sheet
TBS6909 User Guide
How to use Astra with TBS6909
(http://www.tbsdtv.com/blog/tbs6909-8-tuner-with-cesbo-astra-software.html)
Software updated (download)