TBS6909-X V2 DVB-S2X/S2/S Octa Tuner PCIe Card Compatible with Tvheadend
TBS6909-X V2 DVB-S2X/S2/S Octa Tuner PCIe Card Compatible with Tvheadend
Model: TBS6909X-V2
Weight: 400.00g
Reward Points:329
In Stock
TBS6909-X V2 is a powerful DVB-S2X/S2 and annex M octa tuner card with PCI Express interface, it not only supports to receive SD/HD digital TV channels from 8 different satellite transponders simultaneously, but also supports CCM, ACM, VCM and Multi Input Stream, which is considered as a professional TV tuner for industrial-level users. When you have limited PCIe slots in your server, TBS6909-X V2 enables you to receive more channels than the usual dual or quad TV tuner, thus it is highly recommended for broadcasting system.
Main Features:
Support Octa DVB-S/S2/S2X
Fast scanning functionality for all media
Supports CCM, ACM, VCM and Multi Input Stream
Support wide band
Applications:
Data receiving
Media monitoring
Digital content distribution
TBS6909-X DVB-S2X Octa Tuner Card PCIe
DVB-S2X/S2; Octa tuner; Linux OS; PCI Express;

TBS6909-X Three Signal Input Way
Mode 0
Default mode is multiswitch mode. The signal input can be like this:
Master output
Quattro-LNB/Multiswitch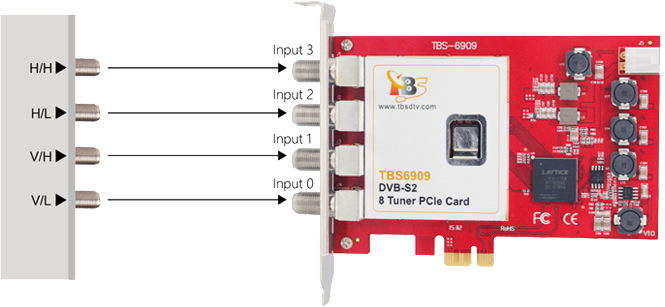 If you are using quattro LNB, you have 4 cables (V/L,V/H,H/L,H/H), connect the right one to TBS6909-X like the above picture ( input 0- input 3 should be connected to V/L,V/H,H/L,H/H respectively).
Quad-LNB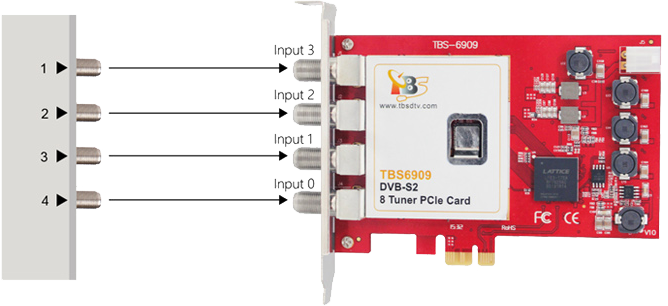 If you are using quad LNB, you can directly connect the 4 cables to the 4 ports of TBS6909-X.
Single C or Ku Band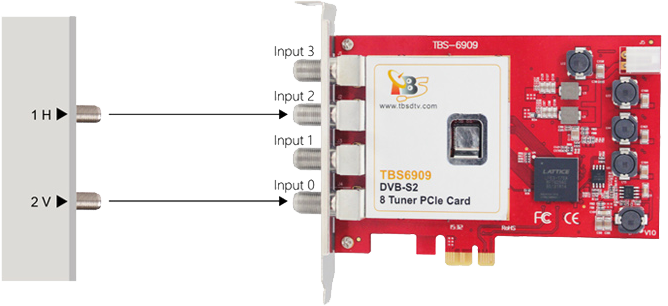 If you are using single C or Ku band, then two inputs are enough, you just need to connect the cables to input 0 and input 2 to provide V and H signal.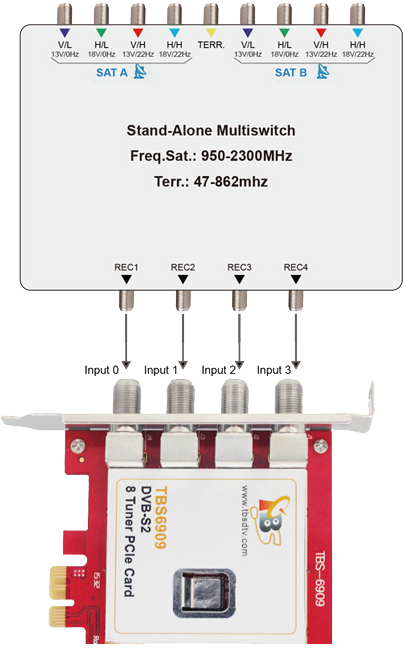 In some case multiswitch have more than one satellite input, need to choose the satellite first.
Mode 1
LNB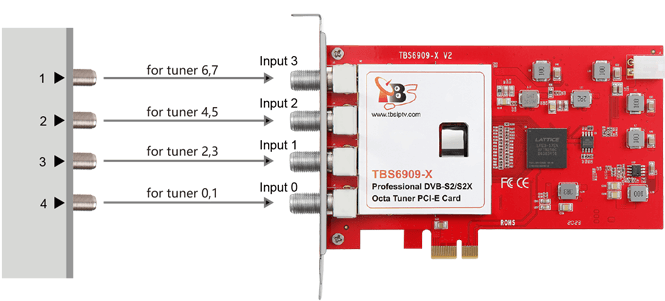 If you want to use DiSEqC with TBS6909-X, you could use this mode.
Mode 2
Unicable LNB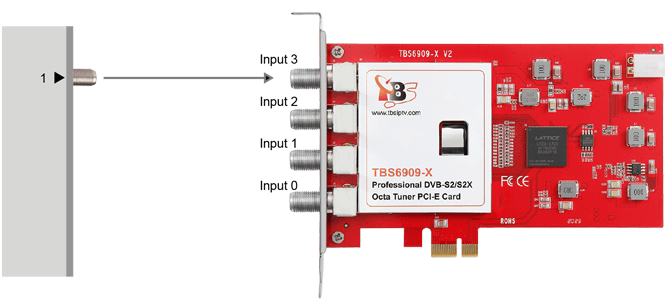 When using with unicable you can connect the signal cable like this.
Specification
Model
TBS6909-X V2
Connection
PCI-express
4x RF in
DVB-S/S2/S2X
DVB-S/S2
QPSK
1/2, 3/5, 2/3, 3/4, 4/5, 5/6, 8/9, 9/10
8PSK
3/5, 2/3, 3/4, 5/6, 8/9, 9/10
16APSK
2/3, 3/4, 4/5, 5/6, 8/9, 9/10
32APSK
3/4, 4/5, 5/6, 8/9, 9/10
DVB-S2X
FECFRAME (normal)
64800 (bits)
DVB-S2X (Normal)
QPSK
1/4,1/3, 2/5 (S2-MODCODs)
1/2, 3/5, 2/3, 3/4, 4/5, 5/6
8/9, 9/10 (S2-MODCODs)
13/45
9/20,11/20
8PSK
3/5, 2/3, 3/4, 5/6, 8/9 (S2-MODCODs)
23/36,25/36,13/18
8PSK-L
5/9,26/45
16APSK
2/3, 3/4, 4/5, 5/6, 8/9,9/10 (S2-MODCODs)
26/45,3/5,28/45, 23/36, 25/36,13/18,7/9,77/90
16APSK-L
5/9,8/15,1/2,3/5,2/3
32APSK
3/4 ,4/5,5/6, 8/9, 9/10 (S2-MODCODs) 32/45 ,11/15,7/9
32APSK-L
2/3
64APSK
11/15, 7/9,4/5, 5/6.
64APSK_L
32/45
FECFRAME (short)
16200(bits)
DVB-S2X (short)
QPSK
1/4, 1/3, 2/5 (S2-MODCODs)
1/2, 3/5, 2/3,3/4, 4/5, 5/6
8/9, 9/10 (S2-MODCODs)
11/45, 4/15, 14/45,7/15, 8/15, 32/45
8PSK
3/5, 2/3, 3/4, 5/6, 8/9 (S2-MODCODs)
7/15, 8/15, 26/45, 32/45
16APSK
2/3, 3/4, 4/5, 5/6, 8/9 (S2-MODCODs)
7/15, 8/15, 26/45, 3/5, 32/45
32APSK
2/3, 32/45
VCM
Yes
ACM
Yes
Power consumption
Input/ Power:
12V/7 ~ 20W
temperature
0° ~ 78°
System Requirements
Windows XP / Vista/ 7/8/10, Linux
Available PCI Express x1, x4, x8 or x16 slot
Dimension:
TV tuner card size
145 * 92 * 1.6mm
Gift Box Size
200 * 130 * 30mm
Weight
400g
Package Contents
1 * TBS6909-X
1 * Power cable
Maximum symbol DVB-S2X/S2 rate limitations (Msymb/s)
Msymb/s
Demod
LDPC
4 simultaneous
demodulators
6 simultaneous
demodulators
8 simultaneous
demodulators
QPSK
64
720
64
60
45
8PSK
64
720
60
45
30
16APSK
64
720
45
30
22.5
32APSK
51
720
36
24
18
64APSK
43
720
30
20
15